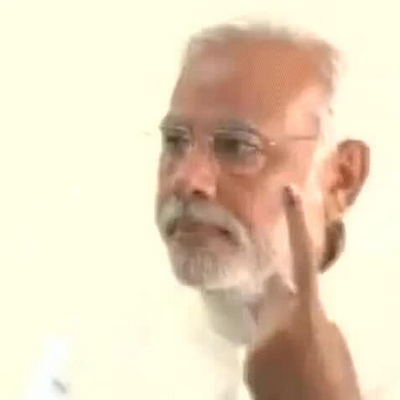 16:25 IST Wednesday, 30 April 2014: Congress cites World Bank report, hits back at Narendra Modi
16:24 IST Wednesday, 30 April 2014: Rahul Gandhi is a liberal, looks upon all as equals: Priyanka Gandhi
15:40 IST Wednesday, 30 April 2014: EC takes congnisance of congress' complaint
What the EC says: "The Commission is of the view that by holding that meeting and also by addressing the same today when the polling is going on in the entire state of Gujarat and in different parts of the country, Narendra Modi has violated the provisions of Sections 126 (1)(a) and 126 (l)(b) of RP Act 1951." "Therefore, the Commission directs...that complaint/ FIR as the case may be, should be filed against Narendra Modi and all others who were involved in the convening and holding of the said meeting...," the EC order said.
EC has asked the Gujarat Chief Secretary and DGP to send a compliance report by 6 pm today. Plus, all the TV channels and other electronic media which carried the proceedings of the meeting and displayed the election matter should also be proceeded against under Section 126 (l) (b) "by filing separate complaints/FlRs against those channels."
The EC took the decision after going through the video recording of the address of the BJP's Prime Ministerial pick at a meeting in Gandhinagar after he cast his vote today.
"the said address was in the nature of political speech intended and calculated to influence and affect the result of elections in the constituencies going to polls today, not only in Ahmadabad but also in all other constituencies in the state of Gujarat and elsewhere in the country," according to reports.
Read: Election Commission asks Gujarat administration to file complaint/FIR against Narendra Modi
14:41 IST Wednesday, 30 April 2014: India needs a strong government: Narendra Modi
14:21 IST Wednesday, 30 April 2014: BJP will get full majority in Lok Sabha polls: Rajnath Singh
Hindupur(Andhra Pradesh): Rahul Gandhi's convoy jammer vehicle hit by train, one injured pic.twitter.com/erntmp5yjF

— ANI (@ANI_news) April 30, 2014
12:45 IST Wednesday, 30 April 2014: Narendra Modi casts his ballot in Gandhinagar, says elections are like festival
12:45 IST Wednesday, 30 April 2014: There is no Modi wave: Mayawati
11:27 IST Wednesday, 30 April 2014: Brisk polling in parts of Telangana in initial hours
11:07 IST Wednesday, 30 April 2014: Pakistan calls Narendra Modi 'irresponsible, shameful' for call to attack Islamabad to bring back Dawood
10:16 IST Wednesday, 30 April 2014: National Conference leader Farooq Abdullah casts vote.
I am very confident of winning, people won't vote for PDP-Farooq Abdullah #Elections2014 pic.twitter.com/GP2YNH12kZ

— ANI (@ANI_news) April 30, 2014
10:14 IST Wednesday, 30 April 2014: Polling underway at Telangana:
Voting is underway for 17 Lok Sabha seats and 119 state assembly seats in Telangana region of Andhra Pradesh amid tight security Wednesday, officials said.
Balloting is taking place at 30,574 polling booths across 10 districts of Telangana including Hyderabad.
More than 28.17 million electors are eligible to exercise their franchise in the first election in Telangana since parliament passed a bill in February for separate statehood to the region.
As many as 265 candidates are in the fray for the Lok Sabha and 1,669 for the assembly constituencies.
Technical snag in Electronic Voting Machines (EVMs) led to delay in start of the polling at some polling centres.
Chief Electoral Officer (CEO) Bhanwarlal told reporters that some EVMs received from Electronic Corporation of India Limited (ECIL), Hyderabad were in factory mode and the polling staff was unable to use them.
He, however, said such EVMs were being replaced in 20 minutes to half-an-hour as every district has 2,000 EVMs in reserve.
"There is a small technical snag in new EVMs. They are in factory mode and they have to be sent back to the factory but we have sufficient number of machines for immediate replacement," he said. The election authorities are using 100,000 EVMs. The CEO said these were new machines which arrived two days ago from ECIL and Bharat Electronics Limited (BEL).
Polling, which began at 7 a.m., will continue till 6 p.m. in 109 assembly constituencies. In 10 Maoist affected constituencies, polling will end at 5 p.m. while in three other segments the deadline is 4 p.m.
Director General of Police B. Prasada Rao said the polling was on in a peaceful manner. He said no untoward incident was reported from any part of Telangana.
The CEO said 150,000 security personnel including paramilitary forces were deployed as part of the massive security arrangements. Four helicopters were also kept ready for contingency.
Prominent among the contestants for Lok Sabha elections include union cabinet Minister S. Jaipal Reddy (Mahabubnagar), Telangana Rashtra Samithi (TRS) chief K. Chandrasekhara Rao (Medak), his daughter K. Kavitha (Nizamabad), Lok Satta chief Jayaprakash Narayan (Malkajgiri) and Majlis-e-Ittehadul Muslimeen (MIM) president Asaduddin Owaisi (Hyderabad).
As the state will be formally bifurcated in June, the Election Commission is conducting the polls in the undivided state.
The elected legislators will be allotted to the respective states after June 2.
9:59 IST Wednesday, 30 April 2014: Voting for 13 Lok Sabha seats begins in Punjab
After casting his vote, BJP's prime ministerial candidate Narendra Modi addressed the crowd.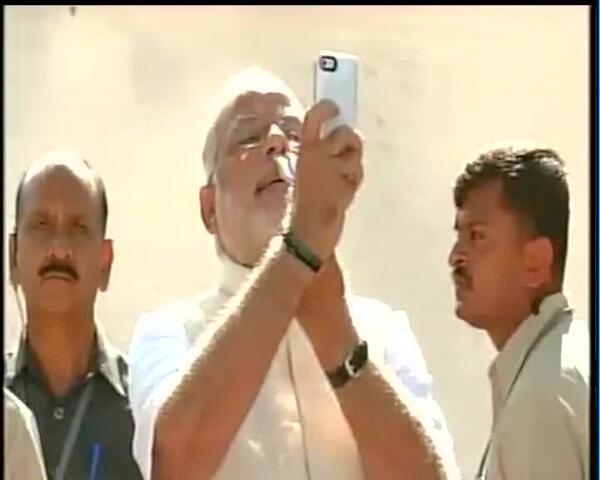 "Today Gujarat is voting. Other states are voting too. Elections are a festival of democracy," he said. "Everyone must join this festival of democracy and strengthen it." He also apologised to people of Gujarat.
"This time I've barely given two days and about 18 hours. But still people took campaign in their hands," he said. "Don't forget Nirbhaya," he said.
"Dont forget unemployed youth. Dont forget farmers committing suicide. Dont forget how our soldiers were beheaded. Congress has accepted defeat the way they're giving statements of aligning with Third Front etc." Ahead of the elections, he had tweeted:
*Narendra Modi's mother Heeraben too cast her vote. BSP leader Mayawati cast her vote too.
Watch:
Below are some pictures of leaders who voted:
Narendra Modi takes a selfie after casting his vote pic.twitter.com/9piay9Gesa

— ANI (@ANI_news) April 30, 2014
Voting is very important for Telangana, will decide its future-Modi #Elections2014 pic.twitter.com/g7MJYppsue

— ANI (@ANI_news) April 30, 2014
Don't forget Nirbhaya when you vote, don't forget the unemployed youth, or our soldiers who were beheaded-Modi

— ANI (@ANI_news) April 30, 2014
Gandhinagar : Narendra Modi's mother, Heeraben casts her vote pic.twitter.com/nZDcbuG2Qv

— ANI (@ANI_news) April 30, 2014
Why are Sonia Gandhi and Narendra Modi still silent on this comment by Ramdev?-Mayawati pic.twitter.com/RYZnDZdcOq

— ANI (@ANI_news) April 30, 2014
Hyderabad : Governor of Andhra Pradesh, ESL Narasimhan casts his vote pic.twitter.com/nxMzPmV1w7

— ANI (@ANI_news) April 30, 2014
Today is voting day in Gujarat and some other states,its like a festival of democracy-Modi pic.twitter.com/P3kIZVq5jk

— ANI (@ANI_news) April 30, 2014
I am 100% sure of my victory, UPA will again form the govt-Sriprakash Jaiswal after casting his vote in Kanpur pic.twitter.com/tP6KgLmtih

— ANI (@ANI_news) April 30, 2014
Modi arrives to cast his vote inside a polling booth in Ahmedabad pic.twitter.com/hbTuM60bo9

— ANI (@ANI_news) April 30, 2014
Punjab : Congress candidate from Bathinda, Manpreet Badal casts his vote pic.twitter.com/1t4VlMBslv

— ANI (@ANI_news) April 30, 2014
I am confident that people will elect me from Lucknow-Rita Bahuguna Joshi,Congress pic.twitter.com/EkyjZGXc4m

— ANI (@ANI_news) April 30, 2014
We will win convincingly-Madhusudan Mistry,Congress candidate from Vadodara pic.twitter.com/7xGomeTwiw

— ANI (@ANI_news) April 30, 2014