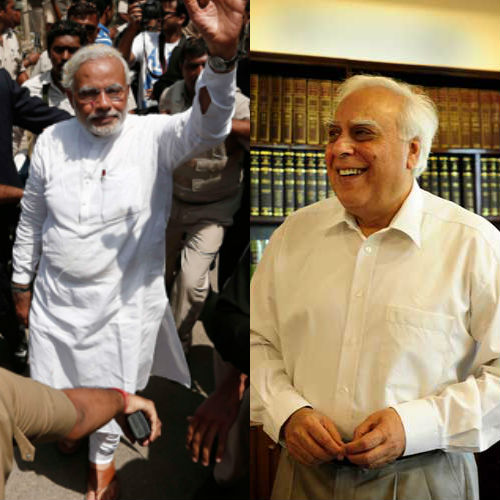 A Raja and Kanimozhi summoned by court for involvement in 2G scam
Taking cognisance of the Enforcement Directorate's complaint on money-laundering in the 2G scam, a Delhi court has summoned former Telecom Minister A Raja, DMK leader Kanimozhi and others involved in the case.
The ED had filed a chargesheet pertaining to a money laundering case related to the 2G scam recently. The court has also summoned 17 other members involved in the scam. Recently the court had also summoned DMK supremo M Karunanidhi's wife Dayalu Ammal as an accused in the case.
In an earlier news report, the Enforcement Directorate had named DMK leaders A Raja and Kanimozhi in the 2G scam charge sheet. The chargesheet had been filed under the Prevention of Money Laundering Act.
RJD President Lalu Prasad on Friday hit back at Rajnath Singh saying that he was trying to portray himself and not Narendra Modi as the real candidate for the top post.
Ahmed Patel says will quit politics if Narendra Modi can prove 'ridiculous' friendship claim
The head of the Kabir Mutt in Varanasi has said Narendra Modi does not reflect the composite culture of this temple town and cautioned that his contesting election from the "sacred place" may "vitiate" its centuries-old unity between Hindus and Muslims.
Arms and ammunition recovered from trains in Bihar
UPA government to name 'snoopgate' judge before May 16: Kapil Sibal
Amethi has seen a lot of development, said Priyanka Gandhi in Amethi.
Rahul Gandhi speaks for all and not just for himself, says Priyanka Gandhi campaigning in Amethi on Friday.
Ahmed Patel hits back at Narendra Modi. "Modi's comments are baseless. Will quit public life if proven I visited him after 2001?, he said.
Rahul Gandhi hits out at Narendra Modi, says chowkidars too steal
Whenever I talk of anything from employment to women's safety, they talk of secularism, said Narendra Modi campaigning in Uttar Pradesh.
Perpetrators of Chennai train blasts should be brought to justice: Mukherjee
Kapil Sibal attacks Narendra Modi, says will appoint judge to probe 'Snoopgate' before May 16
In a direct attack on BJP's Prime Ministerial candidate Narendra Modi, Congress leader Kapil Sibal said that UPA-led-Congress will appoint judges to probe Modi's involvement in snoopgate scandal.
After DD controversy, Narendra Modi refutes making 'daughter' statement for Priyanka Gandhi, confirms mentioning 'good friend' Ahmed patel
After DD was involved in controversy over editing Narendra Modi's interview where he referred to Priyanka Gandhi as his daughter, Gujarat CM's office came to his rescue and published the video to clarify their claims. In the video, Modi does not refer to Priyanka as his daughter but talks about Congress leader Ahmed Patel as his close friend.
At least 7 killed in Assam violence in 24 hours
Seven people, including two children and four women, were killed by suspected NDFB (Songbijit) militants in a village of Kokrajhar district of Assam late on Thursday night. This village is under the Bodoland Territorial Administrative District (BTAD).
This is the second incident of civilians being killed in the state in less than 24 hours. Another incident of firing happened the same night in Assam's Baksa district, where a group of extremists entered a house and gunned down the three members of a family which consisted of two women and an infant as well. The assailants fled after the incident.
A joint combing operation by the police and paramilitary forces has been launched in the area to track down the assailants, official sources said.
According to reports, suspected Bodoland militants resorted to firing in Tulsibil of Kokrajhar.