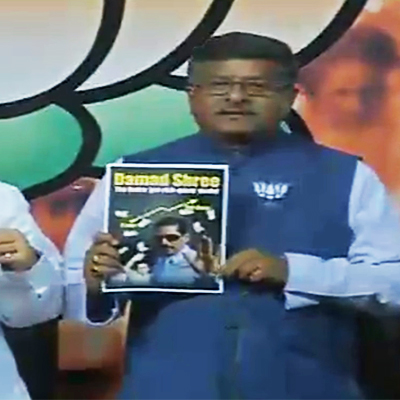 * Has Nitesh Rane lost it? Makes xenophobic comments on Twitter
* Open rigging in Guwahati, state in shock
* Narendra Modi deputes close aide Anandiben Patel to make L K Advani win hands down
* BJP targets Sonia and Rahul Gandhi over Robert Vadra's land deals
LIVE: BJP attacks the 'Vadra Model of Development'
At press conference organised by Ravi Shankar Prasad, today, the BJP once again launched an attack on Robert Vadra's land deals.
Presented through a 'documentary', that took a rather sarcastic stance, on the what they referred to as the 'Vadra Model of Development', the party leaders questioned the Congress party over the various deals involving Priyank Gandhi's husband. They also released a booklet titled 'Damad Shree' documenting these accussations.
14:55 IST Sunday, 27 April 2014: In Amethi, 67000 people asked for work, only 2100 people got work: Narendra Modi
14:39 IST Sunday, 27 April 2014: Three injured in blast in Kashmir at Farooq Abdullah's rally
14:12 IST Sunday, 27 April 2014: Don't need a 56-inch chest to run country: Priyanka Gandhi to Narendra Modi
Taking a dig at Narendra Modi, Priyanka Gandhi today said a 56-inch chest is not needed to run the country but a "big heart" and "moral strength".
The Congress star campaigner was taking a jibe at BJP Prime Ministerial candidate's 56-inch chest remark during a rally in Gorakhpur recently.
14:04 IST Sunday, 27 April 2014: dna exclusive: 500 hectares. Rs 50,000 crore. How Kamal Nath handed over prime forest land to builders
On April 25, dna reported how Urban Development Minister Kamal Nath radically change the 'land use' of the Haryana sub region plan. Nath, along with Haryana CM Bhupinder Singh Hooda, hijacked the NCR Planning Board meeting in Delhi, despite stiff resistance from senior bureaucrats, and signed an order converting 10 lakh hectares of forest land into a "natural conservation zone".
Veerappa Moily says Enviromment Secy had brief to oppose Kamal Nath's move because Arravalli hills have to be preserved for Delhi's survival
BJP cries foul over approval of a major land use change ahead of polls, alleges violation of model code of conduct
EC had allowed Union Urban Development Minister Kamal Nath to hold meeting, but prohibited him from taking any policy decisions
Kamal Nath and Haryana CM Bhupinder Hooda went ahead with decision to convert forest land into natural conservation zone despite resistanc
13:52 IST Sunday, 27 April 2014: Jayalalithaa leaves for Kodanad
Tamil Nadu Chief Minister J Jayalalithaa today left for Kodanad in the Nilgris, from where she would perform her official duties.
Her flight left at 12.10 pm for Coimbatore, from where she would leave for Kodanad by a chopper, airport sources said.
13:48 IST Sunday, 27 April 2014: Priyanka Gandhi targets Narendra Modi, says country does not need a 56 inch chest but a bigger heart.
BJP will take this country to a situation where poor, weak and farmers will beg for their rights - #RahulGandhi
"@ANI_news: Priyanka GV: Ess desh ko chalana ke liye chhappan inch ka seena nahi, dariya jaisa dil hona chahiye pic.twitter.com/K3UoEdiSl5"

— INC Live (@INCLiveTweets) April 27, 201413:00 IST Sunday, 27 April 2014: Apprehensions about Narendra Modi among Muslims will 'go away': Amit Shah
12:27 IST Sunday, 27 April 2014: Blast at union minister and NCP leader Farooq Abdullah's rally at Khanyar in Old Srinagar. Abdullah was present at the rally when the explosion occurred.
12:28 IST Sunday, 27 April 2014: Gautam Adani breaks silence on Narendra Modi; says got no special favours
Read: Gautam Adani breaks silence on Narendra Modi; says got no special favours
12:27 IST Sunday, 27 April 2014: Idea of a Third Front is a failed idea: Arun Jaitley
12:34 IST Sunday, 27 April 2014: Govt declines info on Lokpal aspirants, calls it 'personal'
12:30 IST Sunday, 27 April 2014:Air India to put overseas assets on the block to rake in resources
Air India to put overseas assets on the block to rake in resources