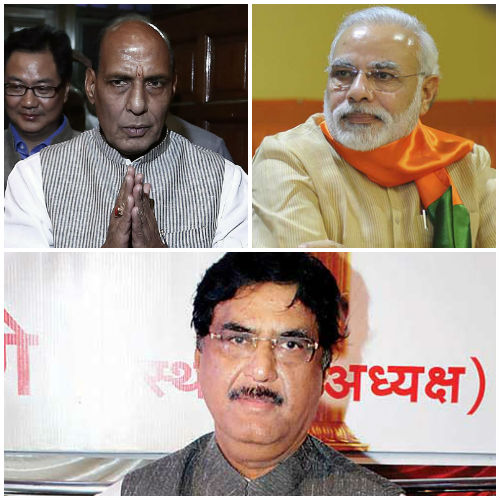 After BJP leader Gopinath Munde met with an accident on Tuesday and passed away in Delhi, BJP party President Rajnath Singh expressed condolences over the same.
He said, "Gopinath Munde's death is an irreparable loss to the BJP and he has left a big void in Mahrashtra's political and social life."
He expressed his condolences with another tweet, "Deeply shocked to know of Shri Gopinath Munde's demise. He was a grassroots leader and known for his concern for poor people and farmers." before going to AIIMS hospital where Gopinath Munde was taken for treatement early at 6:30 am.
*Smriti Irani reached AIIMS. she refused to comment and was seen in tears.
BJP leaders Mukhtar Abbas Naqvi, Prakash Javadekar and Sudhanshu Trivedi express shock over Munde's demise and offer condolences to his family.
Rajasthan Chief Minister Vasundhara Raje and Chhattisgarh CM Ramna Singh mourn Munde's death and offer condolences to his family.
As mark of respect to Gopinath Munde, Government has decided that National Flag will be flown half mast today in Delhi and capitals of states and Union Territories.
Track LIVE updates here:
Pray for his soul,was shocked to hear Mundeji's demise.Would like Govt to seriously look at road safety-Jay Panda,BJD pic.twitter.com/NUxspVa0l6

— ANI (@ANI_news) June 3, 2014
Very painful news,I can't believe it. Munde ji was a senior and hardworking leader-Rashid Alvi,Congress pic.twitter.com/SjMHqam0ec

— ANI (@ANI_news) June 3, 2014
Prime Minister Narendra Modi sent out a couple of tweets expressing grief over his cabinet member's death. "Condolences to Munde ji's family. We stand by them in this hour of grief," tweeted Narendra Modi.
In an another tweet, Narendra Modi expressed his sadness over this development. He said, "Extremely saddened & shocked by the demise of my friend & colleague Gopinath Munde ji. His demise is a major loss for the Nation & the Government (sic)."
Chrionicling Munde's achievements, Modi further said, "Gopinath Munde ji was a true mass leader. Hailing from backward sections of society, he rose to great heights & tirelessly served people."
Munde suffered cardiac arrest while treatment at AIIMS trauma center. According to reports, it was a head-on collision with another car and he had lost blood due to the accident.
Read: Gopinath Munde's death a major blow to nation and government says Narendra Modi
Union rural development minister Gopinath Munde died after he met with a road accident near Moti Bagh area in New Delhi at 6.30 am. He was rushed to AIIMS by his driver and assistant but could not be revived according to official reports from hospital officials.
The driver of the Indica car which hit the minister's car has been taken into custody. Munde was going in his SX4 vehicle at Aurobindo Chowk when an Indica car hit him.
He had suffered multiple injuries including injuries to the chest and head and was on ventilator.
Munde was on his way to the Delhi's IGI Airport from where he was scheduled to catch a flight for Mumbai. Munde's body will be taken to 11 Ashoka road for BJP leaders to pay their respects. Gadkari said Munde's body will be flown to Latur airport in Maharahstra, from where he will be taken to his village in Beed district for his last rites.
Read: Union Minister Gopinath Munde dies in road accident in Delhi