Live Updates:
A day after he led the BJP to an unprecedented triumph in the parliamentary polls, Narendra Modi, set to be India's next prime minister, Saturday undertook victory laps in Delhi and Varanasi, the second Lok Sabha seat he has won, and taunted Congress over its historical loss.
A sea of supporters waved Bharatiya Janata Party flags, blew conches, beat drums, danced and shouted slogans as soon as the Gujurat chief minister stepped out of the Delhi airport after flying in from his state. The celebrations continued all through the long route to the party office.
Besides BJP president Rajnath Singh, the seven newly-elected party MPs from Delhi were among those who received Modi, visiting Delhi a day after the announcement of the Lok Sabha results.
His tone and expressions much more relaxed than what was witnessed during his over 400 rallies during the poll campaign, Modi dedicated the party's thumping victory in the Lok Sabha polls to the "generations of loyal party workers" as he reached party's national headquarters at 11, Ashoka Road in central Delhi
The first political reference in his speech came only late in the evening in the Hindu holy city of Varanasi, when he took a jibe at Congress for its pathetic loss, as it was limited to 44 Lok Sabha seats.
"We have heard about coalitions to form government but now we have a situation where they need alliance for opposition," Modi said in Varanasi after he offered prayers at Kashi Vishwanath Temple, referring to the party's unprecedented, poor show.
In New Delhi, the BJP office was converted in a fortress, but it could do little to keep the party workers and supporters away who kept gathering outside the premise, dancing to the tune of bands playing on the cordoned, decorated road.
In a message of peace, Modi released a bunch of white balloons here, as rose petals were showered in welcome.
Modi attended a meeting of party's parliamentary board of the party, which decided to meet May 20 to formally elect him as its leader.

"It is a mere formality, there is no need to tell who will be elected," Rajnath Singh said after the meeting, which was attended by veteran party leader L.K. Advani, Sushma Swaraj, Murli Manohar Joshi, Arun Jaitley, M. Venkaiah Naidu, and Amit Shah along with others.
The BJP president also said after the meeting, they would call a meeting of National Democratic Alliance (NDA) allies. He also said that they have not yet finalised a date for the swearing-in ceremony for Modi or his cabinet. Modi then left for Varanasi, the second Lok Sabha seat he won along with Vadodara. In the holy city, where he defeated Aam Aadmi Party's Arvind Kejriwal and Congress' Ajay Rai, Modi performed a ritualistic 'puja' at the Vishwanath temple, one of the most pious Shiva temples. He then participated in a Ganga arti at the bank of the river, holy for Hindus.
"I was stopped from speaking to my people in Varanasi. In spite of that, people voted for me. They put a stamp on my silence," he said in an indirect reference to the Election Commission which had stopped him from holding a rally in a Beniyabagh, a Muslim dominated area, on security grounds.
Modi also promised to clean up the holy city. "By 2019, when we celebrate the 150th anniversary of Mahatma Gandhi, we should have cleaned up the country," Modi said on the banks of the river. BJP became the first non-Congress party since Independence in 1947 to win a comfortable majority on its own in the 545-member Lok Sabha.
*'Modi' chants follow after Narendra Modi's speech at Varanasi
Read: Lok Sabha win not 'a mere five-year contract': Narendra Modi tells Varanasi
*Nobody can stop India now, Maa Ganga has made me yours says Narendra Modi at Varanasi
For the first time country has elected a PM who is born after Independence-Modi
*We have heard about coalitions to form government but now we have a situation where they need alliance for Opposition: Narendra Modi
*We will live for the nation. Each and everything we will do is for the nation: Narendra Modi
Ab hum Kashi ko ganda nahi hone denge-Modi pic.twitter.com/PhJ9jDLR4u

— ANI (@ANI_news) May 17, 2014
*Till Banaras does not become Rashtra Guru how can India become Jagat Guru: Narendra Modi
Read: Sonia and Rahul Gandhi to resign from top posts of the Congress party?
Watch LIVE here:
*Modi: one thing that Mahatma Gandhi never compromised was cleanliness. Can we not fulfill this wish from Kashi? Let the country see this.
*Modi: ho sakta hai maa ganga kii seva karna mere naseeb mey likha hai
Read: Narendra Modi visits Varanasi, offers prayers
*Not everybody gets such occasions in life. That is why I say Maa Ganga has decided I should do something things: Narendra Modi
*Had I not got Shyamji Krishna Varma's ashes back no one may have asked but I would have felt very bad: Narendra Modi
*Maa Ganga calls us- is there any child who will make the Ganga clean, restore its glory: Narendra Modi
*It is Maa Ganga that has made me yours: Narendra Modi
*When I came to Varanasi I came as a candidate but when I filled my form I became a son of this land: Narendra Modi
*Varanasi gave stamp of approval on my silence also: Narendra Modi
*With you I established Maun Samvad. I was a candidate who was not able to speak to his voters: Narendra Modi in Varanasi
*'Har har gange' and 'Har har mahadev' chants follow Narendra Modi's speech
I thank the ppl of Varanasi for giving such a huge victory to Modi ji-Rajnath Singh pic.twitter.com/7BzuktZYkU

— ANI (@ANI_news) May 17, 2014
*Rajnath Singh addresses people at the 'Ganga aarti'
*Ganga Arti being held at Dashashwamedh Ghat. Narendra Modi and other BJP leaders are attending it.
Read: Nitish Kumar doesn't want to work as Chief Minister under Narendra Modi as Prime Minister: Congress
*Narendra Modi is seated witnessing the rituals with Amit Shah by his side
*Secular forces in Bihar will unite : Sharad Yadav (JDU) on possible RJD-JDU alliance in Bihar
Narendra Modi at Dashashwamedh Ghat pic.twitter.com/TEN0uYz1bl

— ANI (@ANI_news) May 17, 2014
Narendra Modi,Amit Shah and Laxmikant Bajpai during Ganga Arti at Dashashwamedh Ghat pic.twitter.com/bTT5zixAOn

— ANI (@ANI_news) May 17, 2014
*Narendra Modi,Rajnath Singh and Amit Shah arrive at Dashashwamedh Ghat
*Varanasi : Narendra Modi's convoy on way to Dashashwamedh Ghat
Narendra Modi,Rajnath Singh and Amit Shah arrive at Dashashwamedh Ghat pic.twitter.com/feeqUbsoTG

— ANI (@ANI_news) May 17, 2014
If he had not left NDA then he would not have seen this day-Sanjay Raut,Shiv Sena on Nitish Kumar pic.twitter.com/Q9rOQJvm4G

— ANI (@ANI_news) May 17, 2014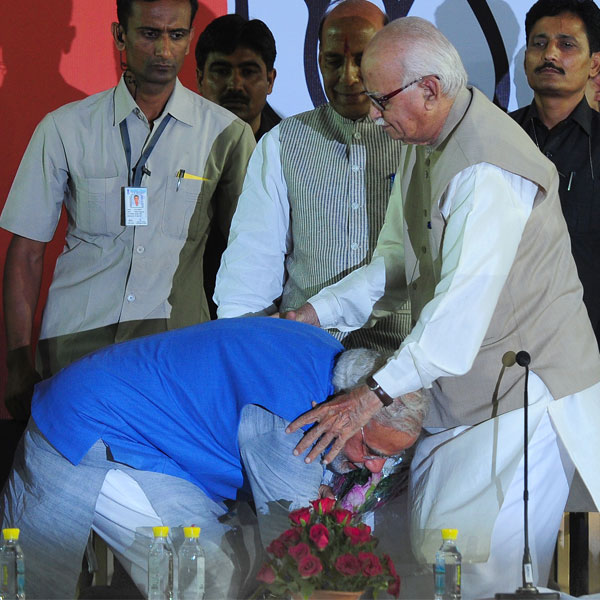 *They (BJP) got full majority,ppl have voted for Modi's promises,he must fulfill them-Digvijaya Singh
If Nitish Kumar can resign then why can't Prithviraj Chavan? Ppl rejected him as well,must resign on moral grounds-Sanjay Raut, Shiv Sena
* Narendra Modi arrives Varanasi to celebrate his Lok Sabha elections victory.
Read: Good bye GoMs! Welcome super Modi cabinet
ALSO READ: 7 things you need to know about Bihar CM Nitish Kumar who resigned today
* If the "good days" are indeed here, then our best wishes that they come true, says Nitish Kumar.
* I haven't recommended the dissolution of Bihar legislature. I don't wish for that to happen, informs Nitish Kumar
* The entire election campaign was about personality politics, says Nitish Kumar
* This campaign was marred with each side blaming the each other for problems, but no real issues were addressed. We tried to get votes on issues but failed. I have never seen anything like this in my entire political career,says Nitish Kumar, To break away from the BJP was a correct decision which was taken on the basis of our principles, he added.
* I'm taking the moral responsibility of the losses we bore this elections., says Nitish Kumar
* We want fresh elections and seek a new mandate, that is why this step was taken, says KC Tyagi of JD(U) on Nitish Kumar resignation
* "He resigned on moral grounds. It's ok, it's his way of politcs. Should not be criticised, says Congress; Shakeel Ahmed on Nitish Kumar resignations
* After the debacle of JD(U) in the Lok Sabha Elections yesterday and the BJP-LJP alliance's sweeping win, Bihar Chief minister Nitish Kumar has resigned from his post and recommended dissolution of the state assembly. Kumar, who at one point was seen as challenge to Narendra Modi's prime ministerial ambition, has been facing internal revolt with growing number of party members speaking out against him. Read more
* JD(U) leader Nitish Kumar resigns as Bihar chief minister: reports
ALSO READ: 5 must read stories on Nitish Kumar vs Narendra Modi in Bihar from dna archives
* President of France Francois Hollande looks forward to meeting and working with the next prime minister and Govt of India
* Varanasi DM Pranjal Yadav hands over winning certificate of Modi to BJP leaders Rameshwar Chaurasia and Kaku Bhai.
Varanasi DM Pranjal Yadav hands over winning certificate of Modi to BJP leaders Rameshwar Chaurasia and Kaku Bhai pic.twitter.com/4NPTU5Eyxq

— ANI (@ANI_news) May 17, 2014
ALSO READ: Why BJP might have got it wrong by attacking Varanasi's popular DM Pranjal Yadav
* Kamal Nath meets the President for dissolution of 15th Lok Sabha with immediate effect
* Now that people have chosen Modi to be PM, we have to conduct meetings and polls of our Gujarat MLAs to choose next chief minister
* No decision on date of oath ceremony yet, he informs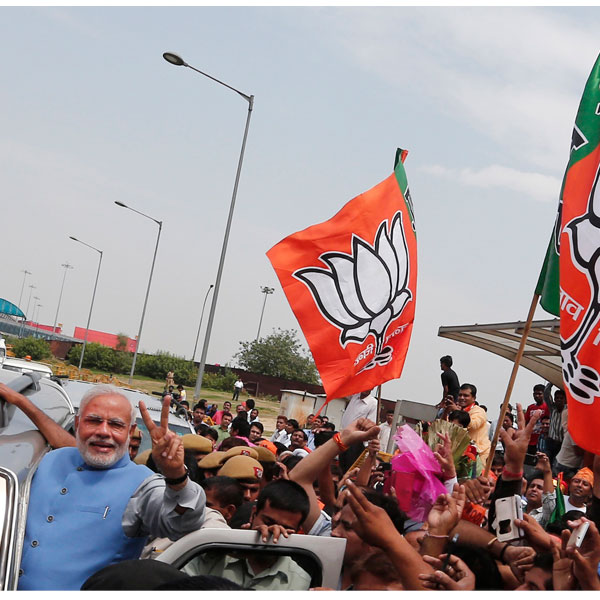 * BJP parliamentary meeting on May 20 to decide the leader of the government. NDA will also join in selection Narendra Modi as the next prime minister.
* The parliamentary board thanks the people of India for reposing faith in the BJP, says Rajnath Singh
* Narendra Modi gave a vision to our campaign, says Rajnath Singh
* Narendra Modi, Nitin Gadkari and Rajnath Singh likely to meet top RSS leaders to discuss government formation and new Cabinet, reports suggest.
* Manmohan Singh tenders resignation to the President
PM Manmohan Singh after submiting his resignation to President Pranab Mukherjee pic.twitter.com/okVJxoWXSI

— ANI (@ANI_news) May 17, 2014
* BJP's parliamentary board meeting commences
* Congress President Sonia Gandhi and Vice President Rahul Gandhi may offer their resignations, in order to take responsibility for the party's defeat this Lok Sabha elections, reports suggest.
* Thousands of BJP supporters gave a rousing welcome Saturday to Narendra Modi, set to be India's prime minister, as he flew into Delhi and set out in a motorcade to the party headquarters. A sea of supporters waved BJP flags, blew conches, beat drums, danced and shouted slogans as soon as Modi stepped out of the airport after flying in from Gujarat. The celebrations continued all through the long route. Read more
* The credit for this win goes to people of India, generations of our Karyakartas who worked tirelessly, Modi said. Read More
* I thank you for the warm welcome from the airport till here. says Modi
* I thank party workers for BJP's win, says Narendra Modi after victory roadshow, says Modi
* Narendra Modi arrives at the Delhi airport. Rajnath Singh there to receive him.
Delhi: Narendra Modi greets supporters outside the airport

— ANI (@ANI_news) May 17, 2014
* With Narendra Modi set to hold a roadshow in the national capital today after scripting a historic win in the Lok Sabha polls, a multi-layer security cover has been put in place in the city with hundreds of policemen and NSG commandos deployed. Read more
* Even after I leave the post of PM, the love and affection you have given me will stay with me. Read the full text of his speech here
READ: Prime Minister Manmohan Singh bids adieu, says his tenure is open book
* Today India is a far stronger country today than it was 10 years ago. I give credit to you all, says out going Prime Minister Manmohan Singh
* I wish the incoming govt every success as it embarks on its task, says PM Manmohan Singh
* I have always tried to do my best in serving this great nation, says Manmohan Singh, My life and tenure in public office are an open book
ALSO READ: Here's how the US media viewed Narendra Modi's historic win
* President Barack Obama last night congratulated Narendra Modi for his electoral victory during a telephone call and invited him to visit the US to further strengthen bilateral ties. Read more
* Canadian Prime Minister Stephen Harper congratulates Narendra Modi, praises Indian democracy. Read more
BJP leader Narendra Modi registered a sweeping victory from his constituencies in Vadodara and Varanasi in the Lok Sabha elections of 2014, allowing him to become the next prime minister of the nation.
The BJP had won or 285 seats in parliamen comfortably across the halfway mark of 272 required to rule. An alliance led by the party was ahead in 338 seats. For the first time in 25 years a single party has emerged the majority party in the Lok Sabha. The BJP has secured as much as 285 seats in the Lok Sabha this election - the highest ever secured by the BJP in any general election so far. Even though the BJP has expressed that it is open to all alliances, the number of seats indicate that they could be ruling the government all by themselves.
ALSO READ: Is it the end of coalition era?
Modi's landslide victory was welcomed with a blistering rally on India's stock markets and raucous celebrations at offices across the country of his Bharatiya Janata Party (BJP), where supporters danced, exploded fireworks and gave out sweets.
ALSO READ: BJP - 285 seats/leads: How Narendra Modi led BJP to its best ever performance
Modi will visit Delhi today, for BJP parliamentary board meeting and victory roadshows, even as the outgoing Prime Minister Manmohan Singh look over his last cabinet meeting before abdicating the seat
Here's what is planned for his day ahead:
10 am: Modi will reach Delhi's IGI Airport. His roadshow to start from Dhaula Kuan with senior BJP leaders, supporters. The roadshow will end at BJP's office in Ashoka Road.
12 noon: Modi's felicitation at BJP office in Delhi. BJP Parliamentary board meeting to follow.
3 pm: Modi will arrive in Varanasi. Modi will visit Sankat Mochan Temple, Kashi Vishwanath Temple and Ganga Arti followed by a rally at Daswamedh Ghat.
7 pm: Modi will leave Varanasi for Ahmedabad.