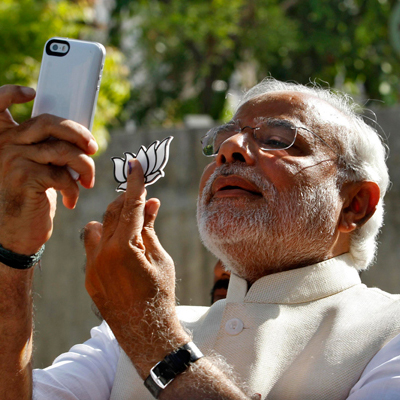 * BJP takes on P Chidambaram after saying he was not sure if Priyanka Gandhi would accept Narendra Modi as 'father figure'
* Narendra Modi hungry for power, already assumes himself as PM: Sonia Gandhi
* Congress demands Narendra Modi's arrest over FIR for poll code violation. "EC has already registered the complaint against Modi. He should be arrested for his offence," stated Congress Party legal cell head KC Mittal KC Mittal. JD(U) has also made the same demand.
* AAP releases manifesto for Varanasi; calls for Holy City status for Varanasi
* I am Rajiv Gandhi's daughter: Priyanka Gandhi's curt reply to Narendra Modi
* Those fighting against Rahul Gandhi have "ulterior" motives: Priyanka Gandhi
* "The Election Commission is not the God of politics. It is not above law," Azam Khan stated today.
*Sending Narendra Modi to Pakistan will be the best medicine: Lalu Prasad Yadav
*Chennai train blasts could have been prevented: M Karunanidhi
*Twitter reacts to Pakistan's Army Chief General's 'jugular vein' comment on Kashmir
*UPA government has insulted Telugu people, alleges Narendra Modi
*RJD leader Lalu Prasad today said that the BJP Prime Ministerial candidate should be sent to Pakistan and then only any question of destabilisation will arise.
Strongly condemn bomb blast at Chennai Station. Have to fight the menace of Terror unitedly.

— digvijaya singh (@digvijaya_28) May 1, 2014
Narendra Modi should send apology to the Election Commission: P Chidambaram
NIA team reaches Chennai blast site
*A National Investigation Agency (NIA) team has reached the site of the twin blasts in a train at Chennai Central railway station and is investigating the case, a home ministry official said on Thursday.
*He said that the ministry has sought a report from the state government on the incident.
*One passenger was killed and 14 were injured Thursday when twin blasts occured in two coaches of an express train that had entered the Chennai railway station.
Chennai train blast:
*Security was today intensified at major railway stations across Andhra Pradesh following the bomb explosions at Chennai Central Railway station, Government Railway Police (GRP) said. "We routinely conduct checks and searches at railway stations, however, following the bomb explosions at Chennai railway station, we have intensified the checking at Secunderabad and Nampally railway stations besides at Warangal and Kazipet and other railway stations," Superintendent of Police (Secunderabad Railway Police) Chandrasekhar Reddy said.
Politicians react:
Rashtriya Janata Dal President Lalu Prasad said safety for everybody should be ensured and called it an act of terror
*"The blast in Chennai is a terror attack. It is a very sad incident and should be condemned by all. Safety for all should be ensured first in the country," Prasad said while on his way to address public meetings in Ujiarpur, Saran and Maharajganj constituencies
*TCS employee was killed in the attack
*The 24-year-old woman who lost her life in the twin blasts in the Bangalore-Guwahati Express at the Chennai Central Railway Station was an employee of Tata Consultancy Services (TCS) and her family belongs to Guntur, Andhra Pradesh. TCS, in a statement after the blasts, said, "We are deeply shocked and saddened at this unfortunate loss of life of our colleague in this tragic incident. Our thoughts and prayers are with the family at this time."
*Prime Minister Manmohan Singh on Thursday condemned the twin blasts that took place in a train at Chennai Central Station. Offering condolence to the kin of the deceased and sympathy for those injured, he appealed for peace and expressed confidence that the people of the country will stand united against these attempts to disturb peace and harmony. Singh said, "Such barbaric acts targeting innocent men, women and children only highlight the desperation and cowardice of those responsible," according to a statement released by the Prime Minister's Office.
*"The Prime Minister has offered his sincere condolences to the family of the deceased and heartfelt sympathies to those injured", it said. He said, "No efforts should be spared to bring the perpetrators to justice. The Centre, he said, will provide the state government all assistance towards this.
*The Guwahati- Bangalore Express, aboard which two explosions took place, has departed from the Chennai central station. The running status of the train, says that has been delayed by 50 minutes.
Priyanka Gandhi vadra breaks away from SPG security cordon
*Alert sounded in Kerala after Chennai bomb blasts
1 ideology says that in last 60yrs poor,women & others made sacrifices for nation,another says nothing happened in last 60 years: Rahul Gandhi
Woh chahte hai jaisa Hindustan hai waisa hi rahe,kisan ka beta kisan aur mazdur ka beta mazdur rahe,hum chahte hain yeh badle Amethi: Rahul Gandhi:
Bilaspur(HP): Rahul Gandhi addressing a rally pic.twitter.com/gmxQbUhZLf

— ANI (@ANI_news) May 1, 2014
Priyanka Gandhi addressing a public meeting
When Rajivji represented you, it was a golden period for Amethi. 35yrs ago he started bhoomi-sudhar here, set up institutes. Rahul ji has the same outlook as Rajiv ji, he thinks about the future and plans ahead: Priyanka Gandhi
Rahulji thinks like Rajivji.Milk produced from here now goes to other states,similarly he encouraged setting up tech institutes You know better than me who wants to work for you with an honest heart and who comes with self interest: Priyanka Gandhi
Janta ka bahut bada ehsaan hai hum pey. Hum janta ki shakti janta ko wapas dena chahatey hain: Priyanka Gandhi
Its your responsibility to secure the tradition of this country that respects all cultures & religions. Vote responsibly. I will not ask you for votes, I know you will take the right decision. You know who is the right candidate for you: Priyanka Gandhi
It is quite shocking, maybe done to scare civilians at the time of elections: D Raja on Bangalore-Guwahati Express blast JDU will support AAP & Arvind Kejriwal, we have spoken to Ashutosh and Manish Sisodia in detail about this: KC Tyagi
What Pakistan Army Chief has said is bizarre, Kashmir is the heart and a part of India: Lt. Gen (Rtd) PN Hoon pic.twitter.com/7iUEaAc8hw

— ANI (@ANI_news) May 1, 2014
*Rashid Alvi on Pak Army Chief comment: If they consider Kashmir as jugular vein, they must know that we are competent enough to cut it off
Madanapalle(AP) : Venkaiah Naidu translating Narendra Modi's speech in Telugu pic.twitter.com/5JOyCRfuKT
— ANI (@ANI_news) May 1, 2014
Narendra Modi: You have come for the rally even in this heat, after forming Govt, promise won't let your penance go in vain
Narendra Modi: We will build 100 smart cities, it is our dream to build a knowledge city in Seemandhra
Narendra Modi: Maa-bete ki sarkar,Delhi mei Congress ki sarkar Andhra ke logon ka apmaan karne mei kabhi bhi peeche nahi hatey hain Modi: We need a skilled India but Congress has created a scam India in the last 10 years
Nirmala Sitharaman: BJP expresses condolences to the families affected #ChennaiBlast pic.twitter.com/sk06AhSGbq

— ANI (@ANI_news) May 1, 2014
Our heartfelt condolences to those injured & to the family of the deceased : Randeep Surjewala,Congress
#ChennaiBlast : Police & Forensic teams inspect train pic.twitter.com/OBAImOPbLB

— ANI (@ANI_news) May 1, 2014
* It is quite shocking, maybe done to scare civilians at the time of elections: D Raja on Bangalore-Guwahati Express blast
*The Railway has started a help line 044-25357398 to render assistance to relatives of passengers.
*A woman passenger was killed and 11 others were injured, two of them grievously, when two bombs went off on Thursday morning in quick succession in two coaches of the Guwahati-Bangalore Express at the Chennai Central railway station, the main railway hub here.
*Southern Railway General Manager Rakesh Mishra told reporters that the minor intensity blasts took place at around 7:45 AM in S-4 and S-5 sleeper coaches after the train arrived at the platform number 9.
One woman was killed and two others were injured grievously.
*The woman passenger travelling from Bangalore to Vijayawada died. She was identified as 22-year-old Swati, who was slated to go further to Guntur. Seven persons received minor injuries, Mishra said. The injured were taken to the government-run Rajiv Gandhi general hospital across the road.
*Bomb disposal squad and dog squad have been pressed into action. Mishra said the police was investigating the nature of the blast and those who could be behind it. The Railway Minister has announced an ex-gratia of Rs One Lakh to the family of dead woman, Rs 25,000 for grievously injured and Rs 5,000 for those with minor injureis. Mishra said the grievous injuries of the two persons were not life threatening. He said the whole train was being searched and it may be allowed to carry on with its onward journey.
*Soon after the explosion, security personnel cordoned off the platform number 9 but the movement of other trains from and to Chennai Central has not been affected. Police have mounted a massive search operation in all the trains following the incident. Mishra said the train had a brief 10 minute halt at the Central Railway station ahead of its ownward journey. Police said they were probing the cause of explosion and device used for it.
Watch the live news coverage here: