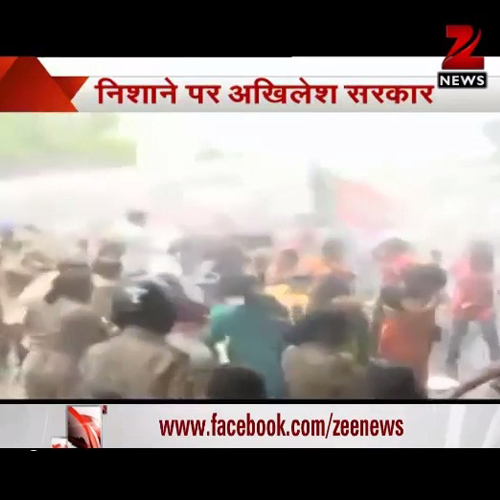 The BJP on Monday stepped up pressure on Uttar Pradesh government over the Badaun gang rape and murder case and said the Centre will intervene if UP governor BL Joshi sends a report on the situation occuring in the state.
The Union home ministry has asked the UP government on why SC/ST Act was not slapped against culprits in the Badaun gang rape and murder case, according to MoS home Kiren Rijiju.
Uttar Pradesh police fired water cannon at protesters, mainly from the BJP's women's wing, demonstrating outside the office of chief minister Akhilesh Yadav on Monday against the horrific gang-rape and murder of two Dalit teenaged girls in the state's Badaun district last week.
Women from Uttar Pradesh on Monday hit roads and protested against the CM in Lucknow. A group of women, led by women wing of the Bharatiya Janata Party (BJP), gheraoed Akhilesh's office in Lucknow.
They protested as the state government and the CM did not take initiatives to protect them. One after another rape cases have been hitting the country and Uttar Pradesh has become one of the worst states where women are given zero security.
Taking a different style of protest, the agitators flashed their bangles and took broom, sticks while expressing their wrath against the CM. They also bravely faced police actions as cops lathicharged and used water canon to disburse the protesters. However, all their efforts went in vain as police could not restrain the women from protesting.
Read: Union minister Ram Vilas Paswan visits Badaun, meets families of rape victims
Union Consumer Affairs Minister and chief of the Ram Vilas Paswan along visited Badaun district along with his son Chirag on Monday to meet the families of the two Dalit teenage girls who were brutally gang-raped and murdered last week.
Paswan is the third high-profile leader after Rahul Gandhi and Mayawati to visit the families of the victims. He criticised Uttar Pradesh chief minister Ram Vilas Paswan for the incident, and for not visiting the village. "It is sad that the UP CM has not come even for a visit. He is either scared or he does not care," Paswan said. "It's a shameful incident, people are scared," he added.
Watch the video coverage here:
Several hundred protesters demanded an end to violence against women at the protest. "We're not going to sleep, we'll be here, they have to stop this (violence against women)," one protester told a leading television network during the demonstration in Lucknow.
"We're going to stay here, we're not going to give up," said a middle-aged man said before the crowd was drenched by riot police.
The two cousins, aged 14 and 12, were found hanging from a mango tree in their impoverished village last on Wednesday morning, with subsequent tests showing they had been the victim of multiple sexual assaults. The girls had apparently gone into the fields on Tuesday night to relieve themselves because their home, like most in Badaun district, did not have toilets.
Outrage is growing over the attacks after the girls' fathers accused local police of refusing to help find those responsible because they belonged to a lower caste.
India revised its laws on sex attacks in the wake of the December 2012 gang-rape of a student on a bus in New Delhi which triggered outrage, but they have done little to stem the tide of sex attacks.
Also read: #Badaun gang-rape: Human Rights groups demand strict action against policemen involved in heinous act
The gang-rape and murder of teenage Dalit girls in Badaun, Uttar Pradesh has enraged the nation and sent shivers down the spine of the Uttar Pradesh's political leaders. But, it has also provided them the opportunity to start a blame game.
The victims not only carried the triple burden of being a girl child from lower caste and class but were also minors.
Mass protests erupted in Delhi and elsewhere over that attack, which unleashed seething anger at India's treatment of women. Rights activists and politicians said the latest cases showed authorities in Uttar Pradesh were "not serious" about tackling sexual crimes.
RT @GoSruthi: Rahul Gandhi listening to women in #Katra village after the horrific Uttar Pradesh rape & hanging pic.twitter.com/uOO9BsSK5v

— Anushay Hossain (@AnushaysPoint) June 1, 2014
Asked at a press conference last week about the incidence of rapes in the state, UP CM Akhilesh Yadav told a female reporter, "You haven't been harmed, have you? No, right? Great. Thank you."
Samajwadi Party (SP) chief Mulayam Singh Yadav sparked uproar during the recent election campaign when he said rapists should not receive the death penalty because "boys will be boys".
Police have arrested five people in connection with the attacks on the girls and a CBI investigation has been ordered.
Here's how people are reacting to the incident:
Why no case agnst Badaun rape cused under SC/ST Act? MHA writes to UP Govt. (despite national outrage is UP Govt going soft on accused?)

— GAURAV C SAWANT (@gauravcsawant) June 2, 2014
MHA writes to UP govt on #Badaunrape asks why SC ST act has not been slapped on accused

— Mrityunjoy Kumar Jha (@Mrityunjoykjha) June 2, 2014
Don't turn away from the rape victims of Badaun. But for an accident of birth, that could be you.

— Seema Goswami (@seemagoswami) June 2, 2014
Disgusting Samajwadi woman on News nation justifying the Badaun rape and murder on the grounds that the girls knew the boys well. Sick!

— Tavleen Singh (@tavleen_singh) May 30, 2014
Here's how international media is covering the incident:
Guardian: This weekend the trees and the parched fields around them are a crime scene, trampled by local officials, politicians who scent a vote-winning cause, policemen with ancient Lee-Enfield rifles, fast-talking Indian TV reporters and a stream of onlookers from other villages. All stare at the branches of the largest tree, from which two girls were found hanging at dawn last Wednesday, hours after they were abducted and gang-raped. The cousins, aged 14 and 15, had disappeared the night before and were last seen being hauled across the fields by three local men.
AFP: Raped, murdered girls reveal horrific risks for India's poor: The nightly trek into the fields behind their homes under the cover of darkness leave the women of Katra Shahadatganj in northern India feeling scared and vulnerable at the best of times.
For all case updates, read here.
With inputs from AFP.