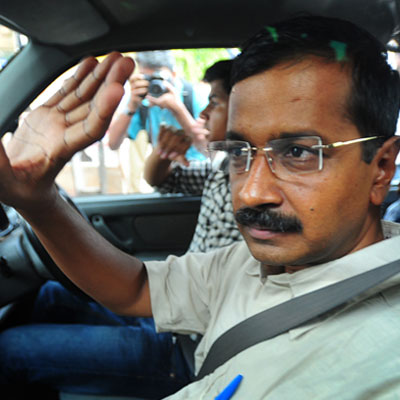 AAP tweets 'incriminating' documents against Nitin Gadkari: Evidence or hastily compiled propaganda? Aam Aadmi Party releases documents allegedly incriminating Nitin Gadkari following Arvind Kejriwal's arrest. Following the events of Wednesday, where AAP leader Arvind Kejriwal was arrested and refused to post bail, there were protests seen by AAP party members in Delhi who were arrested which included leaders like Yogendra Yadav. Read More
Read Also: 5 reasons why Arvind Kejriwal loves a good dharna
Yogendra Yadav released after furnishing bail bond
Arvind Kejriwal's arrest has sparked displeasure among AAP supporters. Having been arrested on Wednesday after refusing to post bail in a case filed by Nitin Gadkari.
However, his arrest sparked protests outside the jail and also caused a clash between AAP supporters and the police officials. The protestors were then shoved into buses and arrested. Featuring among them were prominent AAP leaders like Yogendra Yadav and Sanjay Singh. Read More
Aam Aadmi Party leader Arvind Kejriwal was sent to judicial custody on refusing to furnish a bail bond in a defamation case that BJP leader Nitin Gadkari had filed against him.
AAP today decided to launch a door-to-door contact programme to apprise people about the circumstances leading Kejriwal's arrest. "We had a meeting with Arvind Kejriwal during which it was decided that the party won't protest anymore and would launch a door-to-door campaign and tell people how a honest man like Kejriwal is behind the bars," senior AAP leader Ashutosh stated. Read more
ALSO READ: Arvind Kejriwal's arrest trends on Twitter, supporters tweet with the hashtag #IStandWithKejriwal
Kejriwal was taken to Tihar jail last evening, where his colleagues and supporters had gathered, terming the situation ironical that those who attack corruption are sent to jail while those who are alleged to be corrupt are free outside. According to reports, chaotic scenes were witnessed outside the Tihar jail on Wednesday evening when clashes broke out between AAP supporters and Delhi Police. Around 70-80 workers including MLAs and other senior leaders were arrested from outside Tihar jail. Police had to imposed section 144 outside the jail premises. Senior leaders like Yogendra Yadav, Manish Sisodia were dragged by the police personnel.
Bharatiya Janata Party (BJP) has accused Kejriwal of staging a drama to gain public attention. "This is nothing but a stunt and a drama and this is absolutely denigrating the judicial system. The judicial process is that anybody who has been summoned and against whom there is a case, which will be heard by the court, has to furnish a bail bond. But that bail bond, he has not agreed for that. That means they don't respect the law," said BJP leader Prakash Javadekar.
READ: Arvind Kejriwal languishes in Tihar jail, BJP and Congress term it drama while section 144 imposed
As Kejriwal languished inside the jail, protests continued outside the jail premises. Delhi Police cordoned-off the area which was criticised by AAP leaders.
"We were merely expressing our solidarity with Kejriwal. We were not causing any obstruction to the traffic or the security of Tihar," party leader Yogendra Yadav said.
Another AAP leader Manish Sisodia echoed the views of Yogendra Yadav saying, "We are sitting on the foothpath and protesting and that is not wrong."
"The AAP totally disagrees with the decision of the learned Metropolitan Magistrate to send Kejriwal to judicial custody. There is no provision in law which makes it mandatory for a defendant against whom a complaint is filed in a defamation case to furnish a bail bond, particularly when he is ready and willing to be present in the court on the fixed date of hearing," the party said in a statement.
READ: Politics or gimmickry: what are Arvind Kejriwal's priorities?
The party said that there were at least four cases in which courts have accepted undertakings given by Kejriwal which were of similar nature and did not insist on a bail bond.
"In defamation cases filed by Pavan Khera and Amit Sibal, the courts accepted the undertaking given by Kejriwal and a similar procedure was followed in two other cases registered against him pertaining to protests against the coal scam," the party added.
"Despite the erroneous court order, the AAP will continue and intensify its fight against corruption and for ensuring the rights of the common man," it said.
Earlier in the day, Kejriwal had ended days of speculation over Delhi government formation, by stating that AAP would go for fresh polls as the party saw no chances of forming a government in the city. He apologised to the people who wanted the AAP government in Delhi to continue. "In the next 7-10 days, we will hold a number of meetings in Delhi... We will apologise to the people of Delhi and (seek) complete mandate so that we can form a government for five years," said Kejriwal.
READ: Arvind Kejriwal apologises to Delhi; sent to Tihar in defamation case
He admitted that the people's anger against his party for resigning from Delhi was justified and thus they would seek people's forgiveness to win them back.
The announcement follows AAP's failure to win any Lok Sabha seat in Delhi where it has 28 MLAs in the 70-member assembly. The decision came after Kejriwal met senior party members and MLAs to discuss their future course of action on forming government in Delhi.