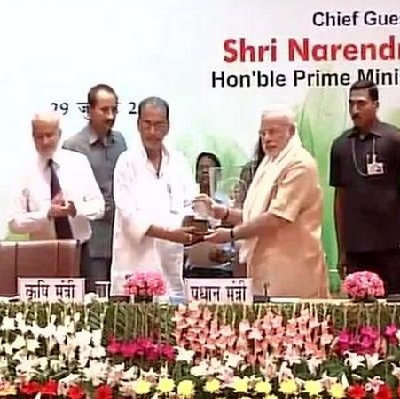 Addressing the 86th foundation day and awards ceremony of Indian Council of Agricultural Research (ICAR) in New Delhi on Tuesday, Prime Minister Narendra Modi hailed all the farmers of the nation saying, "Everyone who has contributed to the field of agriculture needs to be given a standing ovation. I request you to applaud the farmers who feed the people of India, and not me."
In a rare public address, the prime minister spoke in almost the same spirit that he displayed during his days of campaign ahead of the Lok Sabha election, addressing the key issues faced by the agriculture sector in India.
Here are the 5 key points raised by Prime Minister Narendra Modi:
1. Talking about agricultural technology, he said, "Agriculture technology needs to reach out to the farmers and I'm sure our nation will see huge development."
"Lab to land is our biggest challenge," he pointed out.
2. "Progressive farmers are the real talent who along with the expertise of the available agricultural institutes, can help create a productive talent pool," he added. He suggested that these institutes could employ means of multimedia such as radio shows as well as digitised research material to train and benefit the farmers.
3. He addressed the importance of allied sectors and issues including animal husbandry, fisheries and water conservation. He suggested there be a "Blue Revolution" in the fisheries sector.
4. He emphasised on the need for water conservation. "Weather and water cycle needs to be coordinated. Water is a gift from the God," he said. "Per drop, more crop can become our mission statement so that a farmer has awareness of water conservation." He even mocked the need for holding conferences on 5-star hotels, when there was a dearth of water for agriculture. "What is the need for holding seminars in 5-star hotels, when ultimately there has to be awareness in use of water resources." Farmers are plagued with erratic rain cycles, and that needs to be addressed first, said Modi.
5. He also spoke about developing Indian herbal medicines, a subject he frequently touched upon during his elections days. "China and India both have Himalayas, but China has gone so far ahead in developing herbal medicines," he said. "What new can we do with our medicine plants so that there is maximum utilisation? That's the question we need to ask," he concluded.
Also Read: Narendra Modi government's latest scheme: Rs 500 crore to raise 'desi' cows in 'gaushalas'
Watch his full speech at Indian Council of Agricultural Research​ here:​