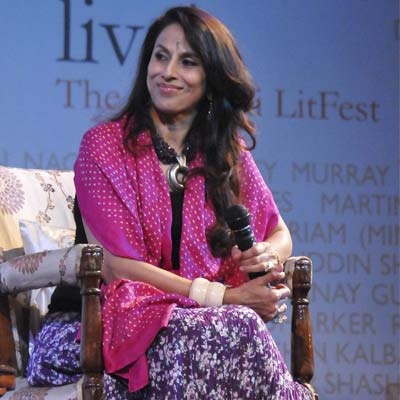 In what could be called a shocking tweet, popular novelist and columnist Shobhaa De tweeted the following after the sudden death of BJP leader and Union minister Gopinath Munde:
Shocking news about Munde's death. How tragic.R.I.P. Burrey din aa gaye for the family. Deepest condolences.

— Shobhaa De (@DeShobhaa) June 3, 2014
The tweet seems to carry a sarcastic tone and is a modification of Prime Minister's Narendra Modi's slogan "Acche Din Aane Wale Hain" during his election campaign. Immediately following the controversial tweet, many Twitter users condemned Shobhaa De, calling her tweet 'shameless', in 'bad taste' and 'insensitive':
.@DeShobhaa Madam this is not the time to show ur "intelligence".Tweet sensibly if U really mean it else it's okay if U don't tweet at all.

— Sadhana Tiwari (@Swt_Sadhana) June 3, 2014
A shrunk mind @DeShobhaa , how she became a writer , Never expected such type of comment #ShemlessShobha

— Er. ??? ?????? (BJP) (@pkt_bjp) June 3, 2014
Just looking young is not enough @DeShobhaa One has to grow up too. UR RIP on #GopinathMunde is in very bad taste.

— Ananthaforu (@Ananthaforu) June 3, 2014
Air kissing skills & fashionable clothes don't denote class,as shobhaa De just proved with her ugly tweet pic.twitter.com/lepNblnGxt

— Smita Barooah (@smitabarooah) June 3, 2014
No one knows it better than Shobhaa De on how to seek some cheap attention

— King_Drunkard_IV (@KingDrunkard) June 3, 2014
Dear Ms @DeShobhaa, de hors the politics & everything else, would it be too much to seek from you a little sensitivity towards human life?

— Navdeep Singh (@SinghNavdeep) June 3, 2014
@DeShobhaa laced in sarcasm ur tweet hardly sounds sympathetic ..u cud do better ms de.. whr is the true mumbaikar spirit of urs ?

— Arundhati Nimbalkar (@a29098051) June 3, 2014
Shobhaa De however, is yet to clarify upon her controversial tweet. We only hope that there was no intentional sarcasm - that the tweet was a genuine expression of grief.