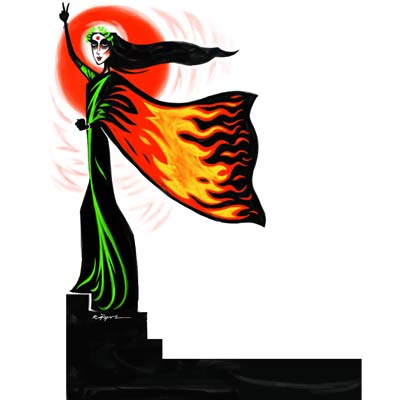 So, what is the status of women in India today? India, a multi-culture-democratic country with a variety of 347 languages, 28 states and 7 union territories still has several points of contention. There are too many dilemmas in India, and women as a section of the population are seldom given much importance. Within this can of worms lies gender inequality and violence against women, both of which have been practiced for several centuries. Hypocritically, it's either one end of the spectrum, or the other. Respect is given to a woman is equal to either Goddess Laxmi or equal to a prostitute within a single look out. Even after 66 years of independence women are denied certain basic rights.
The Shah Bano case, in which Shah Bano, a 62-year-old Muslim, daughter of a police constable and mother of five from Indore, Madhya Pradesh, was divorced by her husband in 1978. But even after winning the case at the Supreme Court. Bano was denied alimony because under the pressure of Islamic orthodoxy the Indian Parliament reversed the judgment.
Most political parties are talking about better protection of women's rights during their campaigns. However, you'll be shocked to know that a woman gets raped every 20 minutes in India, according to government figures. Violence against women can fit into several broad categories, some of the forms of violence perpetrated by individuals are rape, domestic violence, sexual harassment, female infanticide, acid attacks, as well as traditional practices such as honor killings, dowry violence, bride burning, Sati ceremony (a Hindu practice whereby a widow immolates herself on the funeral pyre of her husband), marriage by abduction and forced marriage. Some forms of violence are committed by the state such as war rape, sexual violence and sexual slavery during conflict, forced sterilization, forced abortion, violence by the police, themselves. Many forms of Violence against women, such as trafficking and forced prostitution are often committed by organized criminal networks, many of which are not even reported.
The shocking 2012 Delhi gang rape case occurred on December 16, 2012 in Munirka, when a 23-year-old female physiotherapy intern was brutally beaten and gang raped in a moving private bus in which she was traveling with a male friend. There were six others in the bus, including the driver, all of whom raped the victim and beat her friend. The woman died from her injuries thirteen days later while undergoing emergency treatment in Singapore. Thousands of protesters clashed with security forces in major cities throughout the country.
Exploitation of women at the work place is also rising rapidly where a woman is sexually harassed by her boss or any colleague at the work place. Models and actresses all over the globe are being exploited for their physical attractiveness, and ignored for all the other talents or qualities they may have. Madhur Bhandarkar's 'Fashion' was just an apt example of a lot more that goes around. All this is a hidden scene about which everybody is aware of what is there behind the camera but ignores it.
No doubt, India is advancing at a fast pace in the field of science and technology, but hasn't improved when it comes to discrimination of the sexes. Sadly, there have been numerous incidents of foeticide, where female fetuses have been found lying in farms, thrown in the trash trucks, floating in rivers, wrapped up in polythene bags etc. India's major social problem is the intentional killing of the girl child. The struggle for a girl child starts right from the day, the parents figure out the sex of the child because of which Prenatal sex determination was banned in India in 1994, under the Pre-conception and Prenatal Diagnostic Techniques (Prohibition of Sex election) Act. Haryana has the lowest sex ratio among the states while Kerala remains at the top with the highest sex ratio. The plight of the girl child is still considered an ongoing issue in India. According to the survey of India, the rate of female foeticide is higher in the urban areas as compared to rural areas.
One of the well known victims of Honor killing was the Noida double murder case of Aarushi Talwar and Hemraj, their house maid . The murder of 14 year old Aarushi Talwar and 45-year-old Hemraj. The two were killed on the night of 15–16 May 2008 at Aarushi's home. Honour killing is the homicide of a member of a family or social group by other members, due to the belief that the victim has brought shame or dishonor upon the family or community, usually for reasons such as refusing to enter rearranged marriage, being in a relationship that is disapproved by their relatives, having sex outside marriage, becoming the victim of rape, dressing in ways which are inappropriate according to the society.
Whether be a Gujrati, Punjabi, Haryanvi, Rajasthani etc one wants a 'varis' (son), girls are not considered of one's own family after marriage, and this is one of the most known and ignored issue. But really, the sad fact of the matter is, although this issue is prevalent in many forms across the country, if we aren't affected by it, the common thinking is, why should we care?