Two of AICC's senior delegates - believed to be close to Rahul Gandhi - Mohan Prakash and CP Joshi were dispatched to Gujarat. But to no avail.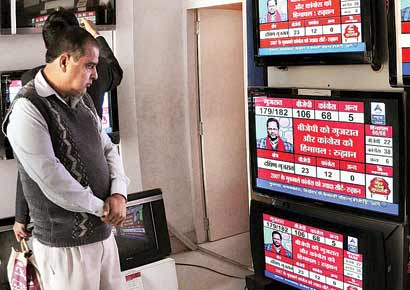 What is missing in the Congress that it is just not able to trump Modi? Is it the absence of a leader, direction, identity crisis, ideological mismatch with the society, or just the absence of purpose? Or perhaps all of these.
A fortnight before the polling day, Congress' high-profile leader Shankersinh Vaghela announced suddenly, "I am the captain (of Congress)". At the time the statement appeared to have come rather unprovoked and from the apparent muted reactions, the sentiment did not find much support either. As the results have come out, Vaghela aka Bapu has actually become the veritable captain of Congress' ship, without its reigning leaders' support.
And that pretty much sums up the Congress' fate in days to come after it's yet another debacle at the hustings in last two decades. Unlike the previous polls, the party this time was proactive in setting the agenda as early as a year ago with multiple yatras across the state. Early on, Congress announced Vaghela as its poll campaign committee chairman, as well as anointing him the chairman of Indian Tourism Development Corporation with a cabinet rank. Two of AICC's senior delegates - believed to be close to Rahul Gandhi - Mohan Prakash and CP Joshi were dispatched to Gujarat. All the multiple factions of the party had their niche defined and for a while here, Congress showed promise.
Closer to elections, a spark of brilliance emerged in the form of a promise for poor sections of the society 'Ghar nu ghar' scheme. The announcement had about 30 lakh women lining up to potentially take benefit of the scheme if Congress was voted to power. Apparently, those long queues did not translate into votes for the party.
This was followed by 12 other promises, including free laptops for students and reducing VAT on fuel. At the time, the promises created much hype and practically shook up the BJP. In retrospect, it becomes clear that coming about three months before polls, Modi got enough time to recover, which eventually reflected in the party's poll manifesto promise of 50 lakh houses for poor.
By the time candidates had to be finalised, all hell broke loose.
The buzz is Rahul Gandhi had a significant say through Prakash and Joshi in finalising candidates' due to which Narhari Amin was chopped off and he migrated to the BJP. Congress made a tacit understanding with some GPP candidates in Saurashtra, Visavadar for instance, which led to severe heartburn.
Instead of strategising, party leaders spent precious time pacifying dissidents. Closer to elections, instead of bringing out its USPs of 'Ghar nu ghar' and other promises, Modi-bashing was the only agenda candidates seemed to have. They were banking heavily on anti-incumbency, which was perhaps even simmering, but the Congress summarily failed to bring it to a boil. Several of Vaghela loyalists were denied tickets, which rendered him amongst the dissidents, but he stayed put on his Kapadvanj seat and at some other places that he had decided to focus on. Most of Vaghela's coterie from Saurashtra and Central Gujarat has won.
Sonia Gandhi's political advisor Ahmed Patel who belongs to Bharuch has not been able to bring home a single of the seven seats in Bharuch and Narmada – most dominated by Congress'loyal votebank Muslims and tribals. He had camped and campaigned aggressively here for five consecutive days before Phase I polls and briefly even for Phase II. What does this say about the electorate? Did they reject Congress as a party or its regional candidates? This indicates BJP has made a severe dent in its loyal electorates not only in Central Gujarat but all over the state.
Needless to say, there is scope for deep introspection.
Besides, the internal churning of incumbents on key positions did not allow new leadership to emerge. "Whether this heralds a leadership crisis in the party in years to come or an opportunity depends on the high command. The clear message that should go to Delhi is not to be paranoid about self-made regional leaders and allow them to thrive.
Despite its defeats, there is young blood committed to Congress ideology which is willing to work hard. In the last two decades, Congress here has made several tactical errors by absorbing break-away factions from BJP and Janata Dal, who obviously have no ideological allegiance with Congress. It is now time to make way for Congressmen," says a committed functionary at the party's deserted office in Paldi, watching live coverage of the results on television.
Modhwadia resigns
Taking moral responsibility for the Congress' defeat, GPCC president Arjun Modhwadia offered his resignation to All India Congress Council (AICC) on Thursday noon. "Arjun Modhvadia has sent his resignation to AICC, taking moral responsibility for the loss. He also congratulated (Narendra) Modi for BJP's win," said a spokesperson at the office. However, it is not clear if Modhwadia's resignation was accepted by the party high command till Thursday evening.