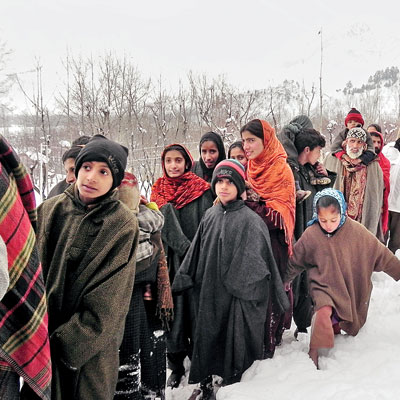 There hasn't been a single year that I have not visited Srinagar and other parts of Kashmir. Many used to warn me that I was being stupid and creating a dangerous situation for myself, but then in Delhi, you can be run over by a stationary bus, so what's a militant or two trying to kill you?
The people of Kashmir are easily the most hospitable as also perhaps the most disillusioned. I am no Kashmir expert so I don't know (or care) about the politics of rogues like the Hurriyat or for that matter other groups, but the reality is that India is an alien nation to every young Kashmiri even to this day.
Having said that, sadly, the only mentions of Kashmir have to do with bomb blasts and killings: never has the positive story been told. Take for instance the Rs400 crore of walnut exports or for that matter the Rs1,100 crore worth of Kashmiri crafts or for that matter the entrepreneurial zeal of an average Kashmiri who can now be found in Kanyakumari as easily as in Angkor Vat. It is this that we need to celebrate.
Every time I visit Srinagar, I make it a point to visit the DPS Srinagar School set up by Kiran and Vijay Dhar. It has 4,500 students and each one of them as bright as you can find anywhere else in India, but the strains of disillusionment continue. This time round, I addressed the students of classes 11 and 12 and insisted there be a Q&A with me post my address and that was an eye-opener. Many promises have been made. By the Ratan Tatas and the Sunil Mittals of the world: at times, promises made under coercion, but there is no real investment in the state by any major Indian corporation. Even the Taj which runs a brilliant hotel in Srinagar hasn't though it worthy to set up a hotel management school in Srinagar which I find strange. Tourism is the backbone of Kashmir and yet there are many lacunae that need to be plugged. To use the threat of terrorism as an excuse for enduring inaction is not what Kashmir needs. Nor does Kashmir need any hand-me-downs. What it needs is the basic understanding that the Kashmiri must find jobs and lead a life of dignity in Kashmir. To force them to leave the Valley in search of either is condemnable especially when some louts in parts of India bear them up and misbehave with them.
Kashmir needs a solution, which is not always found through the prism of politics. Separatists are money machines and not ideologues. The kind of money that is being pumped in both by Pakistan and India is a shame. We are attempting to buy loyalty and allegiance rather than earn it and this money-making racket will continue because it keeps everyone happy except for the average Kashmiri.
As always, when whales fight, shrimps are eaten and the average Kashmiri is that shrimp.
What Kashmir needs is not just connectivity: it needs real-time investment: both from the state and from private capital. For this, perhaps, we need a different set of incentives, but more importantly a real sense of nationalism from those who actually believe in the idea of India. Having known Ratan Tata and Mukesh Ambani for many years, I am convinced they will make long-term investments only because they believe in a robust India of which Kashmir is an inherent part: not because of the sops that will be offered.
Driving from Srinagar to Gulmarg and then back from Gulmarg to the airport in Srinagar, I saw frenetic construction. Many young people engaged in furniture manufacturing, but no real industry: one which can spur the economy beyond all imagination: that is what Kashmir needs.
There also needs to be varied media attention: every TV channel cannot only focus on militancy and not attempt to understand the careful fabric of normal life that the average Kashmiri is attempting to weave. The Indian state has abdicated its responsibility in many ways which is why I wasn't surprised when people asked me when I was going back to India.
Till the time the average Kashmiri refers to us as Indians, we would have failed in our attempt to integrate them with us. And we are not doing them a favour. Hari Singh almost ran away but the present Indian state cannot. And every stakeholder must act: be it the state; the entrepreneur and the media. We owe this to the many young Kashmiris who have their heart in the right place: who brave threats and hartals and bandhs and yet trudge to the many schools that have mushroomed. We owe it to that lady who set up a trout farm in Pahalgam and can now afford to send her child to DPS in Srinagar. We owe it to the many Kashmiris who have fled their homeland only in search of a life of employment and dignity. The time to discuss UN Resolutions and Birder skirmishes is long gone. We now need to focus on the human and the humane. That alone will help Kashmir cross the paradigm it so richly deserves to cross.
Suhel Seth is Managing Partner, Counselage India: suhel@counselage.com and on twitter: @suhelseth