dna kicks off a special series in which writers give snapshots of polls. We begin with one of south India's most prominent writers Paul Zacharia. Among his many well-known books is Reflections of a Hen in Her Last Hour and Other Stories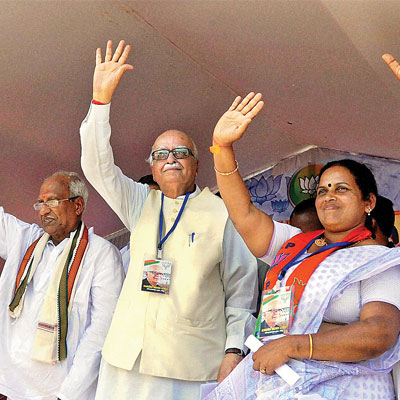 Elections are on April 10 in Thiruvananthapuram. Hardly anyone except the candidates and their cadres seems excited. And they must be cursing the people for causing them all this bother by wanting to vote. The contrived frenzy of mike-announcements fall on deaf ears and the jejune theatricalities of candidates' roadshows are politely put up with. I doubt if there's any voter who hasn't made up her/his mind a goodish time back as to whom to vote, to press NOTA or not vote at all. Why all these convulsions then? It must be a mindset Indian political parties have got into. They seem to believe they must flog the people mercilessly to get them to vote. Perhaps there is more to it. They are telling people that this crass street theatre is what democracy is all about. Enjoy this and be gone! Don't show your faces till next elections! I wouldn't be surprised if all the parties gang up one of these days and pass a resolution abolishing elections. They can just take turns every five years and life will be so sweet – maybe every year, since there are so many parties.
At this time of the year, Thiruvananthapuram is hot, humid and sweaty, but lovely all the same. It is a darling of a city and even the wretched flex-boards of the politicians staring at you from every other corner do not make it less so. People are perhaps a wee bit surly, but I attribute it to having had to put up with a royal family for long and then with the clambering royals of democracy. The citizens of Thiruvananthapuram have a ring-side view of Kerala's ruling classes. Seeing and hearing apart, there is considerable eavesdropping and peeping activity. Bedroom secrets are free download. Sums involved in wheeling-dealing are spelt out to the last digit by dinner time or before the second drink is poured, whichever is earlier. Just a couple of days back, someone told me about the kind of money – it made me gulp - candidate 'x' paid out to get his candidature cleared. Wow, was all I could say. Being a capital city and very small and everyone connected to everyone else, Thiruvananthapuram is a wonderfully porous place for secrets. You don't need to read Sherlock Holmes to get a kick in this city.
But one secret isn't for free download: that is, how the citizenry is going to vote. Thiruvananthapuram parliamentary constituency spreads out to rural, hilly and coastal areas where a mind-bending admixture of religion, caste, sub-caste, class and ethnicities congregate, with a total electorate of 12,42,901. Some pundits say the OBC Nadar community – which has Tamil roots - with its nearly 3.25 lakh votes is the key. Demographically Christian Nadars have an edge over the Hindu. Together they are known to vote Congress. A Christian Nadar, A Charles, has won the Thiruvananthapuram seat three times consecutively for the Congress. CPM-led Left Democratic Front(LDF), has this time placed its faith in the Lord, and fielded Bennet Abraham, a millionaire Christian Nadar, who is a newcomer to electoral politics. Thiruvananthapuram is historically a CPI seat and, to be fair to the CPM, the candidate decision is said to be CPI's.
Other pundits say the Hindu Nair vote of about 3.25 lakh is the crux. Congress's Shashi Tharoor is a Nair with impeccable pedigree. So is BJP's O Rajagopal, former central minister. Then we have the OBC votebanks of Latin Christians, Ezhavas (both about 1.5 lakhs each) and Moslems (around 1.75 lakhs), and the SCST and non-Nair Hindus ( both in the region of 1 lakh each). That's the playground for you – a motley and seemingly irreconcilable crowd. The Latin Church has considerable pull over its flock and can queer the pitch somewhat. Moslems are Congress-oriented and the Ezhava swing is traditionally to the Left. The Ezhava leader Vellappally Natesan, however, has been playing the Modi card. But he's known to play only one card when the crunch comes – his survival card.
BJP has placed a lot of hope upon the Thiruvananthapuram seat, in a state where its case has been hopeless with not even an MLA to speak of. The city was one of Narendra Modi's earliest destinations in Kerala this season. BJP has good reason to hope because O Rajagopal has a history of picking up an impressive number of votes in two previous elections, as against the disastrous performance of other BJP candidates – like PK Krishnadas's 11.4% versus Shashi Tharoor's 44.29 in 2009. Another factor in BJP's favour is that the erstwhile Travancore royal family with its seat in Thiruvananthapuram is an ardent Hindutva – Shiv Sena devotee. The royals can certainly pull in a few thousand votes. But getting the majority of Hindus to give up their cozy perches in the UDF-LDF establishments and make the big swing to BJP is hard.
Since 1977, the LDF has had four wins in Thiruvananthapuram (as against Congress's seven) fielding CPI candidates – all Nairs - and the last was the 2005 by-election. Thereby hangs a tale of Nairhood. But in 2014, it has either run out of Nair candidates or found a new Nadar logic. According to pundits, the second is the case because the LDF is hoping to corner the 86,000 votes captured by A Neelalohithadasan Nadar, at present a JD(S) man with the LDF, on a BSP ticket in 2009. But the gamble has put the Left-voting Hindus in an existential quandary – they have to choose a Christian Nadar! Life's like that! Even for revolutionaries!
I'm no pundit, but if forced to a corner, I'll say it seems the cherubic face of Tharoor will win the race. (The thrill of winning a prediction overrides the risk of making a fool of oneself.) He is well-liked and has been a strong presence in the constituency. Sunanda's demise, if anything, has only brought him sympathy from his considerable female following. His election machinery is something like an armada if that's going to make a difference. And, above all, he is one of the handsomest Nairs!