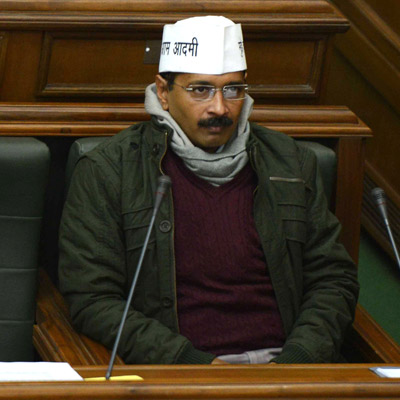 If the major political parties have manufactured a culture of secretive wheeling-dealing and assuming citizens to be fools and knaves, the Aam Aadmi Party has pioneered the culture of anti-politics as politics. It has fine-tuned the politics of reluctance as an electoral strategy.
Arvind Kejriwal's resignation as Delhi CM is a significant aspect of this electoral strategy. For a political party to say that it does not wish to take part in the business of politics is, of course, an irony of gigantic proportions. It may also, however, be a very canny strategy to participate in a much wider political game than the limited sphere afforded by the Delhi assembly.
The politics of anti-politics and the tactic of reluctance was on display in full measure in Kejriwal's address to his supporters from the balcony of the party's central Delhi office. The Congress, he told his cheering supporters, 'forced' support on AAP, thus compelling it to form government. The crowds cheered in the manner of party-workers preparing for a future election campaign, rather than Gandhians turning away from the 'keechad' (filth) of mainstream politics.
It is the Ambanis who run the government of this country, Kejriwal announced. The gathering roared back in approval.
So, are we now at a 'game-changer' moment where ordinary citizens, fed up with corporate and political chicanery, seek to clean-up the system through a mass uprising against mega corporate houses and power political satraps and their organisational structures? Sadly, the strategies of anti-politics and reluctance, while capturing the mood of disgust with politics as it exists, does not represent a serious engagement with the necessary vagaries of an electoral democracy. It may either be an inability to comprehend the complexity of the political process – as corrupted as it is in this country – or a deliberate strategy for further political gain. In the former case, it hardly speaks well for a party's governing capacities, and, in the latter, it is merely politics as usual.
AAP captured the imagination of a citizenry rightfully tired of being treated as political playthings and, notwithstanding its socially conservative ideology on a number of issues, it secured goodwill from many who were convinced by its core message of altering structures of power. However, it is not at all clear that it actually seeks to do what it had promised: undertake the difficult task of changing the system through hard political bargaining and securing incremental change. It prefers, rather, to adopt those very political strategies it disavows as 'dirty politics': its political sloganeering – couched in the language of anti-politics – seems merely to have become a way of securing further party-political gains.
(Srivastava teaches at the Institute of Economic Growth, New Delhi)