The Supreme Court verdict on Sanjay Dutt in the 1993 Mumbai blasts case has left his fans and supporters traumatised. While Dutt's friends and colleagues from the industry took to Twitter to express their concerns, one of his fans, Mumbai-based Ashish Pradhan, has started an online petition appealing for the review of the verdict on the actor.

Circulated on Twitter, the petition addressed to 'The honourable Supreme Court of India,' is titled: Please review Sanjay Dutt's verdict.
It says:

"This petition is important because this verdict has unfortunately affected a reformed man who has not only suffered an ordeal for 20 years but also served a sentence for it. Dutt is not only a reformed man, but an exemplary citizen known for his charity and his goodness. It is sad that the blast case has been made about Sanjay Dutt even though he was acquitted by the courts for the same. The weight of his goodness outweighs his minor mistake which was an emotional impulsive decision to protect his family.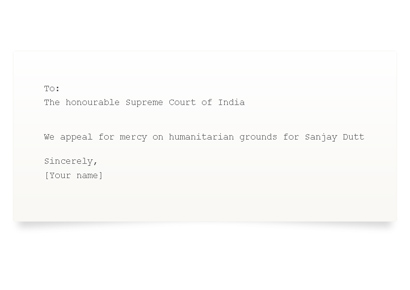 Today politicians are freely roaming around with illegal arms, attacking policemen in the assembly, while Sanjay Dutt is being targeted because he is a celebrity. Is this harsh punishment necessary for a reformed man? The least convictions ever made are for illegal possession of arms, and Dutt has been made a scapegoat and been served harshest punishment ever."
Signatures collected
The campaign, which appeals for mercy for Dutt on humanitarian grounds, has already garnered 1,390 signatures. Some of the reasons for signing the petition are:

Jitendra Panikker, UAE: The man has already paid his debt to society. This verdict is ludicrous and uncalled for.

Ramesh Yadav, India: Sanjay Sir is nothing short of an inspiration to every human being on this planet. He has always been a fighter, a friend to millions and a generous person. For him to go through all this turmoil over and over again is unfair. He is a patriot and a true Indian and till my dying breath I will always support Sanjay Sir. I urge the courts to please review the case once again and please free this man from something that he purposly did not do nor was he involved in.

Shelly Mahesh, India: Sanjay sir is not a criminal we all know that so there is no point for punishment.

Raju Srivastava, India: He has suffered for the last 20 years. The sword hanging over his head was punishment enough... how is he a threat to society? what do we expect to acheive by his incarceration?

Parveen Dhillon, Malaysia: Because he has already served prison time and he is a gem of a person, he doesn't deserve this at this point of time!
Twitter reacts
Meanwhile, in reaction to the online petition, the Twitteratti flooded the micro-blogging site with myriad reactions.

@RannvijaySingha: Let's all stand united for India's most loved man..Save our Munnabhai join our petition at http://bit.ly/Yr6wQg

@JhaSanjay: The law is supreme. Period. No exceptions. Sanjay Dutt can plead for a review petition in SC, seek mercy under executive dispensation.

@Equateall: Has anyone started a petition to save Yakub Memon? If MK can bat for Sanjay Dutt, I think, I can at least pitch for Sanju Baba's driver.

@DiptiJindal: @rajbansal9 FREE MUNNABHAI -PLEASE SIGN AND FORWARD ONLINE PETITION

@SumeetCJ: Boycotting MTv roadies. Their host is running online petition: SAVE SANJAY DUTT

Earlier on Thursday, Justice Markandey Katju had sparked a controversy by appealing the Governor of Maharashtra to pardon Dutt.