Fitness centres introduce special exercise regimen for customers with diabetes, hypertension.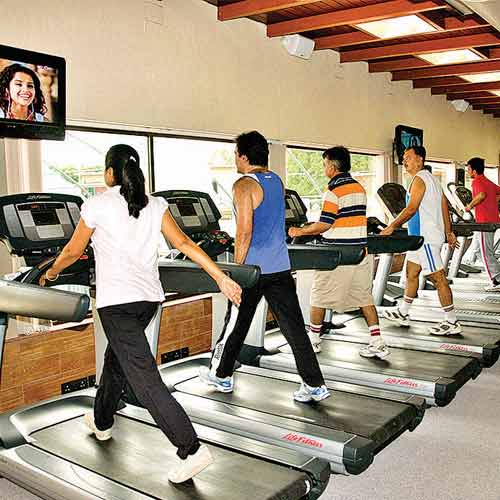 In a fast-paced city like Mumbai where customisation is the key, gymnasiums are not lagging behind.
Realising that lifestyle-related diseases are a cause of worry amongst citizens, fitness centres are now introducing tailor-made packages to help patrons fight the ailments.
Leena Mogre, director of LM fitness, said, "We have introduced special packages for diabetes, hypertension and poly cystic ovary syndrome (PCOS). We have many young women joining us after being detected with PCOS. "
Apart from diabetes and hypertension, a large number of women being diagnosed with PCOS, which results in several gynaecological complications. Experts say sedentary lifestyle and food habits are the prime reasons behind early manifestation of PCOS among teenagers.
The number of women developing PCOS has nearly doubled in the past ten years, say experts.
The problem is serious among those belonging to the affluent class, with gynaecologists seeing at least 30 per cent women from better-off families.
"Changing their lifestyle can help in controlling PCOS and exercise with right diet is the best medicine for such women," explained Dr Ashwini Bhalerao Gandhi, consulting gynaecologist, PD Hinduja Hospital.
According to gym experts, specialised packages can give a person holistic fitness.
"We provide holistic care to our customers. This includes ensuring that they just don't concentrate on cardio workouts but also focus on strength training. We have dieticians who help our customers plan their diet where they concentrate more protein intake than carbohydrate," said Rizwan Sayed, director of Your Fitness Club, which has a chain of gymnasiums in the city,
An estimated 25 per cent of the population suffers from hypertension, and about 20 per cent from diabetes, according to a recent study. Experts say high stress levels make citizens susceptible to these diseases.
Sayed added, "The reason behind we getting these non-communicable diseases is our inactivity and food habits. We ensure that our customers follow a proper diet and go for holistic fitness."