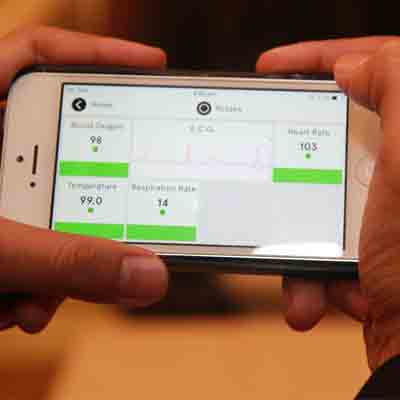 Forget visiting the doctor regularly. Now, all you need is a mobile phone cover to check your vitals. A US-based IT start-up has designed a health tracker, 'Wello', laden with sensors, to track body temperature, blood pressure, heart rate, oxygen saturation and electrocardiography (ECG) of the user.
It was launched across 34 countries, including India, on Thursday. Priced at Rs12,350, the App and the mobile phone cover can be pre-ordered from the company's website, Azoi.com.
"Wello is a mobile health tracker disguised as a smartphone cover that measures vitals and syncs the data to an accompanying iPhone or Android App. The results of the vital parameters are displayed on the phone's screen. Additionally, it connects with other health and fitness devices such as pedometers and sleep trackers to help identify how different behaviour can affect one's bodily state," said Ami Karnik, co-founder, Azoi Inc.
Based on nanotechnology, Wello is a polycarbonate-based mobile cover embedded with sensors that captures the medical information of the user. "The sensors work on a light hold technology. It consists of four sites on the cover that track readings when a user holds the phone for close to 25 seconds," said Karnik. "Wello's battery lasts for close to a month and can be recharged using a USB cord."
According to the World Health Organisation, heart disease is the number one cause of death worldwide, hypertension afflicts nearly a billion people globally and 347 million have diabetes.
Despite Wello giving indications about your vital parameters, any departure from normal readings should be reported to the family physician. "Fluctuation of body temperature indicates fever. ECG can track disturbances in electrical activity of the heart. Low oxygen saturation can be due to a condition known as hypoxia which indicates low oxygen levels in the blood. Any reading below 96% indicates low levels of oxygen. Similarly, heart rate indicates the pumping capacity of the heart and any value beneath 60 beats per minute should ring alarm bells," said Dr Altaf Patel, physician with the Jaslok Hospital on Peddar Road.
The US Food and Drug Administration officials are in the process of streamlining approval of mobile devices which track ECG and other traditional medical tests to ensure that self-testing does not cause any harm to the patient. "We are in the process of seeking US-FDA approvals for marketing the device in the US. In India, however, such an approval is not required," said Karnik.
"Mobile health Apps, which are new in the market, will have to be studied extensively to figure out their accuracy. Otherwise, the readings can create fear psychosis in the patient. The readings must always be referred to the doctor for sound advice," said Dr Patel.