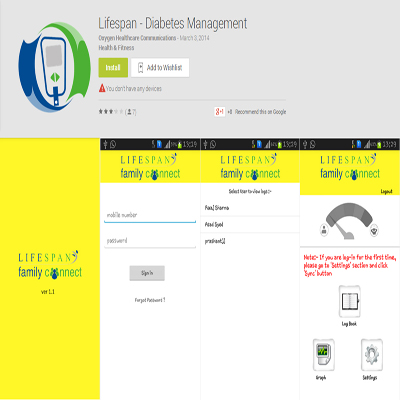 A new application for Android users called the 'Lifespan-Diabetes Management Application' was launched recently. It was made available for android smartphones in February 2014 and it has over a hundred users till now.
About the Application and its usage:
It is a user friendly and a comprehensive personal diabetes manager. It allows patients to secure their personal data using a username and password. This application provides assisstance on diabetes management and is constantly updated to provide the user with most recent information about diabetes.
Features:
*The application comes with features like log for recording Blood Glucose Readings, Blood Pressure Readings, Diet and Exercise Details.
*This application makes an easy reference for patients to acquire their entire log history.
*Patients can also visualize sugar level fluctuations with the help of graph. This application has a provision to set reminders for medicine timings, insulin dosage and for blood sugar reading too. Members can stay connected with physician, and family members with the help of "Lifespan Family Connect App", where they can share or update their blood sugar reading.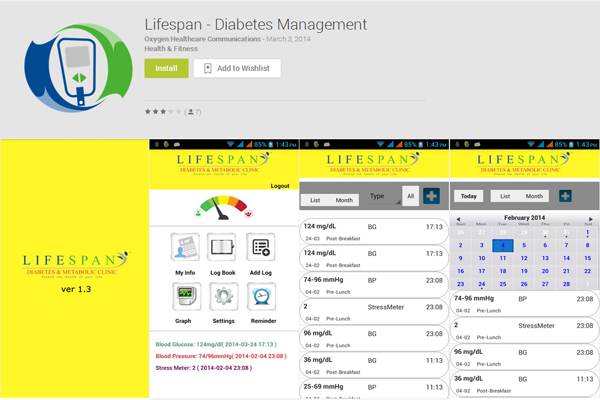 What's in store?
*The upcoming features of this application would include "Diabetes Education" that will provide diabetes management tips, and lifestyle modification that could help in managing Diabetes.
Another feature would be "Recipes for Diabetes" that would allow patients to enjoy delicious food without the risk of increasing blood sugar level.
*Another upcoming feature "Social group support", will motivate patients to control diabetes effectively.
About Lifespan Wellness Pvt. Ltd.
*Lifespan is an endeavour that brings in a new level of organised support and state-of-the-art Medicare for the treatment and management of chronic diseases such as diabetes.
Download the app on Google playstore.