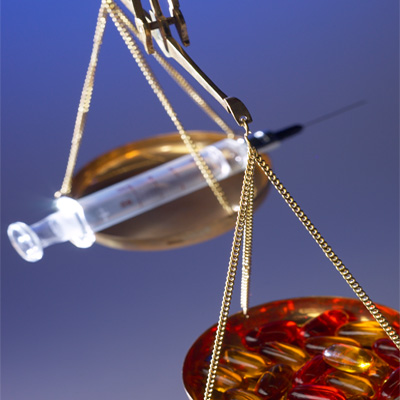 Health has always been a major concern for Indians due to lack of proper diagnostic and treatment facilities. However, now that people have been able to tide over this crisis with the opening of multi-specialty hospitals, most patients face just one problem — funds crunch. Patients who have been hit the hardest are those suffering from rare diseases like Lysosomal Storage Disorders (LSDs) who have no support from either insurance firms or the government.
LSDs are a group of around 45 rare genetic disorders caused by deficiency of a specific enzyme in special compartments (lysosomes) of the cells. Of the 45-plus LSDs, only 7 are currently treatable and the incidence of treatable LSDs ranges from 1 in 30,000 to 1 in 400,000 births. At present enzyme replacement therapy is available as an option for treatment.
According to Shashank Sathe, father of an LSD afflicted, a single injection can cost up to Rs 70,000. At a time, some patients may have to take four injections every 15 days. So the cost for a year can go up to Rs 1.5 crore. At present there is no permanent treatment available and so those suffering from this disorder have to take these injections for the rest of their lives.
Dr Priya Kishnani, Professor of Pediatrics, Division of Medical Genetics, Duke University said, "The treatment of some of these serious conditions has now become available with advances in medical science, but it is beyond the paying capacity of most patients."
According to her, as a small number of people suffer from rare diseases, pharmaceutical companies are unable to recover their research and development costs over a large base of patients. "It is for this reason that these drugs are exorbitantly priced at a global level."
HELP DELAYED IS HELP DENIED
Manjit Singh, president of Lysosomal Storage Disorders Support Society (LSDSS), an advocacy group for rare genetic disease patients says, "We have been meeting the health ministry officials regularly. We want the government to make a corpus fund of about Rs 300 crore from where money can be provided for the victims."
At present there are around 130 patients in the country who are getting free treatment by international pharma companies on international humanitarian grounds, but what about the others, asks Manjit, who is also a father of two children suffering from the disorder. "We had submitted a detailed document to health ministry officials in the UPA, but before anything could be done the government changed. We are planning to meet health Minister Dr Harsh Vardhan next week," he adds.
Kavita Sangle's son Atharva is one of the few in India who has managed to get free treatment for LSD. "I am one of the lucky few to get help. I feel the government should do something for others as well," she says. A police constable posted in Thane, she had to struggle to meet several senior officials before finally getting the approval for her son's treatment costs by the Maharashtra government.
In May, the Delhi High Court had directed Delhi government to provide seven-year-old Ahmed Sirajuddin with enzyme replacement therapy at AIIMS free of charge as and when he requires it. Ahmed, son of a rickshaw puller, is suffering from Gaucher disease whose treatment costs about Rs 6 lakh per month. Ahmed is the fourth and only surviving child of his parents and three of his siblings have already succumbed to the disease.
NOT JUST RARE, BUT ALSO NEGLECTED
There is no official data available anywhere on the number of patients suffering from this disorder in the country. According to data available with LSDSS, there are 600 registered cases of LSDs in India. Manjit Singh says there could be more than 40,000 cases in India, but they may not have been diagnosed as rural India does not have the facilities to detect these diseases.
"These disorders should not be called rare diseases but rare and neglected diseases," says Dr Kishnani.
Dr Mamta Muranjan, Consultant in Clinical Genetics at PD Hinduja National Hospital and Professor and in-charge of Genetic Clinic, KEM Hospital, Mumbai says, "LSDs occur in about one in 5,000 live births. Due to their rarity, there is lack of awareness about these diseases as well as the treatment options available. Often, LSDs are diagnosed at a stage when they are difficult to manage. Even if the diagnosis is on time, the family of the patient is usually unable to afford the cost of treatment."
In India the best places for treatment of these disorders according to LSDSS are the AIIMS and Sir Ganga Ram hospital in Delhi, KEM hospital and Jaslok hospital in Mumbai and the Apollo hospital in Chennai.
Dr Muranjan said, "In a year we see around 15-20 new patients with LSDs." Dr Aabha Nagral, Liver Specialist from Jaslok hospital said, "I get around 10-12 new patients in a year."
The seven treatable LSDs are Gaucher's Type 1, Fabry disease, Pompe's disease, MPS1 (Hurler Syndrome), MPS2 (Hunter Syndrome), MPS4 (Morquio syndrome) and MPS6 (Maroteaux-Lamy Syndrome). The treatment includes Enzyme Replacement Therapy (ERT) and Bone Marrow/Cord blood transplantation.
"The difference between the US and India is that people there are aware about such disorders. There are FDA approved treatments available, but even these are temporary treatments," says Dr Priya Kishnani. "A permanent solution to this disorder is gene therapy which according to me will take at least 10 more years to become a reality," she adds.
One of the main reasons for these genetic disorders is marriage within the family. "In India a lot of communities have a culture of marriage within the family which sometimes results in the suppressed faulty genes to become active. Everyone has 3-4% of faulty genes and when cousins marry, the probability of these faulty genes becoming problematic increases," says Dr Muranjan.