It's time to make small changes at work to be in great health.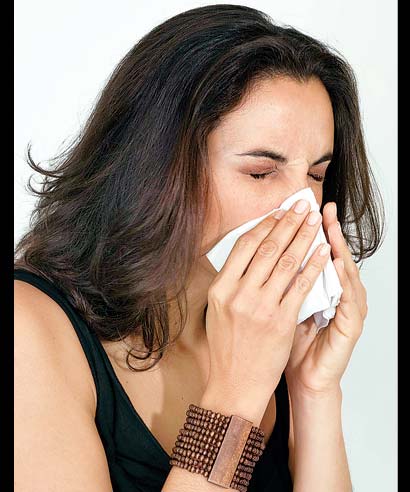 There are hundreds of different viruses that can infect the respiratory system and cause colds and welcome the flu. Also symptoms such as a runny nose, sneezing, sore throat, head congestion and cough can also be caused by allergies.
Althea Shah, Wellness expert points says, "A recurring cold and cough is caused due to accumulation of excess phlegm or mucus in the lungs. Some of the common causes include allergies, seasonal changes and increasing pollution levels. In today's fast paced life, working executives are pressed for time to even visit a doctor or take proper treatment.
Treating this condition as a passing ailment that will get cured on its own is more of a laid back approach. Such an approach can have an adverse affect on productivity levels and also lead to more serious health conditions like pneumonia."
While the problems are many, there are three solutions to solve these 21st century illnesses.
Healthy Meals Althea warns, "Skipping breakfast can slow your metabolism and may also make you more susceptible to binging later in the day. Take a work break every 20 minutes. During your scheduled breaks (including lunch), be sure to leave your desk."
"Try to fit in at least short walks (five-minute walks during your mid-morning and afternoon breaks and a fifteen-minute walk during lunch). Bringing your lunch will not only save you money, but it will also allow you to control your portion sizes and make smart choices," Althea adds.
Bring on the healthy snacks, including fruit, vegetables, low-fat yogurt, low-fat whole-grain crackers, whole-grain pretzels, and granola. These snacks should help you avoid temptations from snacks that are high in fat or sugar. Dr Sanjeev Mehta, Lilavati Hospital, suggests include foods high in antioxidants and Vitamin C to boost immunity levels.
He says, "Steamed vegetables and porridge are foods that can keep us warm and healthy. Spices such as crushed garlic can be used to cure cold, as it helps in warding off bacterial infections. Preparing a loaf of bread with garlic paste can make for a good, light snack."
Start Drinking Water
Keep a bottle of water at your desk and drink from it all day. Water is a key component to many weight loss programs. Keep your mouth busy by chewing sugar-free gum, you will curb the urge to snack at your desk. Also drinking water can also help reduce headaches. In fact, often when we have headaches it's simply a matter of not drinking enough water. Drinking water can clear up your skin.
Exercise while at desk
Although it won't replace the benefits of true exercise, studies have shown that people who fidget (tap their toes, stand and stretch, and make other extra movements throughout the day) can burn as many as 350 calories more than their sedentary co-workers.