The final message was: the laws are in place, now it is up to the men and women of the country to find their voice, speak up, do the right thing and say no to dowry.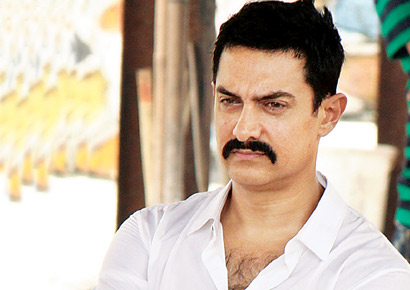 Host: Aamir Khan
When: 11am, every Sunday
Rating: ***
After
female foeticide
and
child sexual abuse
, it's dowry. The third episode of
Satyamev Jayate
, hosted by the Bollywood superstar Aamir Khan, dealt with fighting and speaking up against this social injustice that women all over India tolerate on a regular basis.
The show follows a recognisable format; introduce the problem, support it with facts and figures, bring in people who have experienced the problem first hand and then through such case studies try to understand the gravity of the problem in question. It's a basic and simple format but effective nevertheless.
This particular episode tried to shed light on the fact that the problem of
dowry
is not just prevalent among the lower classes but across all sections of society. The show included women from metropolitan cities like Delhi and Mumbai who came on the sets and related horrifying stories about mental torture and physical abuse that they went through, along with snippets of women from remote sections of Bihar and Maharashtra.
Komal from Delhi, who was bombarded with demands and pumped for money throughout her marriage, had been abandoned by her husband and was half dead in a foreign country before help finally came. Another girl named Nishana committed suicide after enduring verbal abuse from her husband for a long time.
Jalandhar's Paramjeet Kaur's husband took off for Australia, after taking almost Rs15 lakh from her family for "studies", promising to come back within 15 days. While he has been away Paramjeet's in-laws have been harassing her family constantly for more dowry. Finally, now, her husband is demanding a divorce and wants to get the procedure done online.
As with everything, there is a flip side. Santosh Kumar from Bihar was made to go through, what is called, "Pakadwa Byah" just so that the father of the bride did not have to worry about dowry. While the audience laughed at his narration of how he was kidnapped and married off, one can't help but reflect on the desperation of brides' parents which leads them to take such measures.
The show even included an inspirational story, that of Mumbai's Rani Tripathi. Belonging to a middle class family, Rani, against all odds fought for what was right and took control of her own life. Instead of giving in to the ever increasing demands from the groom's side she, along with her family, staged a full blown sting operation and exposed her potential groom to the media.
The show, towards the end, had people from different villages and cities talking about their fight against dowry with whole communities coming together and taking a stand on the issue. People belonging to the North-Eastern states talked about the practice not being followed in their communities and how it seemed alien to them. It signed off on a positive note with a beautiful song titled "Mujhe kya bechega rupaiya" performed by Sona Mohapatra.
The final message was: the laws are in place, now it is up to the men and women of the country to find their voice, speak up, do the right thing and say no to dowry. Although this episode of
Satyamev Jayate
's research seemed a bit more thorough as compared to its episode on child sexual abuse (ep. 2),
but it still didn't answer one question; what can be done to empower those women who have not been fortunate enough to receive education in urban schools and are still withering away in remote parts of the country?