If you are a Madhur Bhandarkar fan, you could skip this one. It may be disappointing as you've seen all this before. If you are a Kareena Kapoor fan, it's a treat.
Film: Heroine
Cast: Kareena Kapoor, Arjun Rampal, Randeep Hooda
Director: Madhur Bhandarkar
Rating: ** 1/2
After Page 3 and Fashion, Madhur Bhandarkar returns with another movie that reveals the murky secrets of the 'big bad world' called Bollywood. After the movie created enough buzz even before going on floors (with Kareena replacing Aishwarya), a lot was expected out of Bhandarkar, especially when, unlike his other 'eye-openers' Page 3, Corporate, Traffic Signal and Fashion, he talks about the industry he actually is a part of.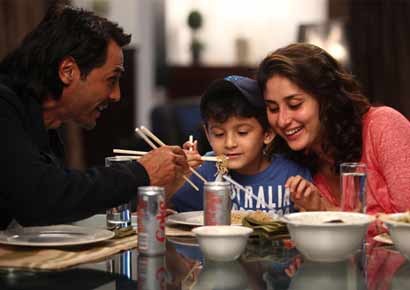 The film opens with Kareena being thrown out of a car. With kohl rolling down her checks along with tears, she gets to the police station with onlookers saying "Arrey ye toh Mahi hai na" (*HighlyFake*). Her secretary pulls her out and outside the police station are 50-70 celeb-crazy press (paparazzi) trying to question her, "The public needs an answer". And bam… Bhandarkar enters the zone of stereotypes apart from showing his typical traits. The public needs an answer from politicians who eat our money and not actors who are trying to keep their personal life under wraps! Moving on…
Mahi Arora (Kareena Kapoor) is a star who is well established in the industry. She ruins her career over her love for another co-star (Arjun Rampal), who fails to commit to her. But the truculent actress bounces back to life with a new relationship with a cricketer (Randeep Hooda) and a big-budget film. However, when the malicious forces of the industry push her out, she works relentlessly to make h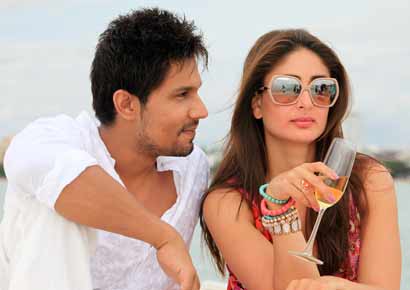 er space in the industry and prove her worth with a small-budget substance film, which is ultimately shelved. Shattered, she works hard to bring her life back on track, for which she is ready to pay any price.
With Bhandarkar watermarked on every single scene of the film, Heroine is highly predictable and somewhere disappointing for those who swear by his ability to reveal the unseen facts. From the feminine-traits of a designer to a back-bitching friend, from vicious women who pass the same comments to death being a turning point for the protagonist, stereotypes successfully kill the essence of this film.
Earlier, the idea of exposing behind-the-scenes reality of media was novel and that's where a film like Page 3 scored – by revealing the unspoken truth. But today, it's done to death. Few weeks ago a film was based on the industry (Chal Pichchur Banate Hain); the week before that, two other films claimed to present the truth behind glamour industry (Raaz 3 and I M 24). With The Dirty Picture being one of the many in this league, it has been well established that actresses are prone to alcoholism, are insecure about their love, have complicated relationships, for some reason do not come from a normal family background and tend to destro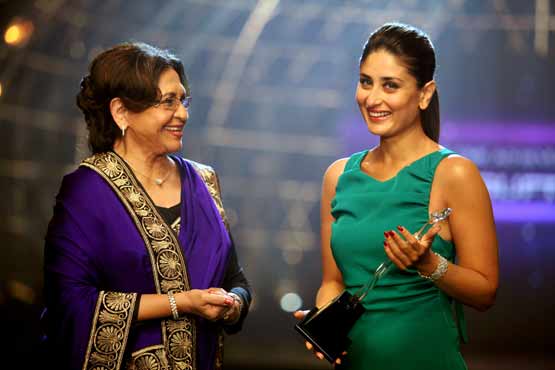 y their career at its peak. Why then, do we need Heroine, which is a complicated mash-up of all these elements? May be the only unanticipated (not novel) bit is the intimate scene between the protagonist and another actress who she befriends on the sets of a film.
The place where the film scores is performances, and mind you, this can't be said for all the actors. Kareena does a good job, however tries too hard to give a powerful performance, which is very evident. Yet, for her fans, the film is a treat! Arjun does a good job. Randeep, as usual does justice to his role. Shahana Goswami is brilliant, but it is unfortunate that her role is limited. Helen has a charming role and she plays it effectively.
Most characters' uncanny similarity to some or the other real life celebrity – a 'Khan' with a jealous wife, a Punjabi cricketer who dates only actresses – is disturbing.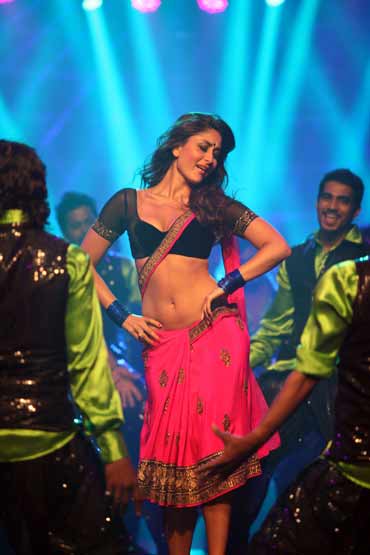 Halkat Jawani has already created ripples and watching Kareena dance to its tunes on a 70mm screen is a delight for all her lovers. The only song worth appreciation apart from this is Saiyaan.
Before the interval, the film is a mess up of fast-paced events. The second half, though slow, manages to bring these events into order to lead to a predictable end.
If you are a Madhur Bhandarkar fan, I would recommend you skip this one. One, it may be disappointing; two, you've seen all this before. If you are a Kareena Kapoor fan, it's a treat.
All said and done, the film may be a one-time watch. But if you expected too much out of the film, it may not be worth the anticipation and your money.