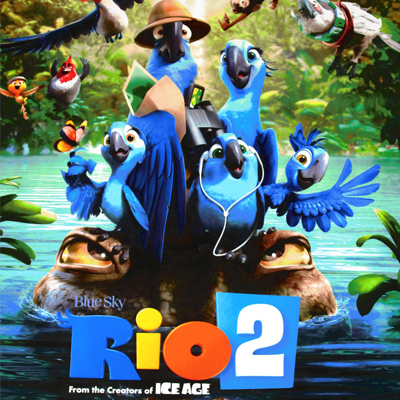 Cast: Andy Garcia, Jemaine Clement, Jesse Eisenberg, Anne Hathaway
Director: Carlos Saldanha
Rating: ***
What's it about:
In 2011 Rio won us over with its carnival laden colorful spectacle about a story of two blue macaws Blu (Jesse Eisenberg) and Jewel (Anne Hathaway) whose love story is anything but ordinary. Three years down the line the feathered couple is living it up in a bird sanctuary in Rio De Janeiro, but soon their human keepers Tulio and Linda (Rodrigo Santoro and Leslie Mann) hear about another blue macaw who ends up being part of Jewel's family. The rest of the plot is heavy with messages about forest conversation with return of some familiar characters - the evil cockatoo Nigel (Jermaine Clement) who can no longer fly and a colorful new addition of a poisonous frog Gabi ( Kristin Chenoweth) as well as an ant eater with a quirky trait. The canvas is beautiful and the Amazon looks like a dream, but beyond the animation the story gets somewhat predictable and caught up in a loop.
What's hot:
The reason Rio was a success because it had a strong storyline. The idea of rescuing his love and also battling his own inner demons made Blu somewhat of a local hero. This time around the new characters especially Chenoweth has better lines and moments than the leads. Fans of the first film will be in for a treat as they get to see the follow up to Blu and Jewels' love story. There is also a lot of singing, fooling around and using rivalry between birds and different species for some good stand up comedy. Nico (Jamie Foxx) and Pedro (Will.I.Am) will bring the house down with their carnival audition scenes!
What's not:
While Rio was a smooth ride, this one is quite a bumpy affair. There are loads of cheesy moments and parts that seem forced to make the end product more likeable. Also sometimes less is more and Saldanha puts too many cooks to make this broth, making the final dish somewhat distasteful. Not that kids won't enjoy Blu and Jewel's flying antics, but adults who loved them in the beginning might start finding them a bit tiresome. Also the Meet the Parents inspired scenes where Blu has to impress his father-in-law, or the mid air football match between the birds seem rushed. There is an effort to make this into a blockbuster by giving the audience what's popular without taking any efforts to have some originality.
What to do:
Rio 2 will appeal to fans of the original who want to see their favourite birds go on another wild adventure.