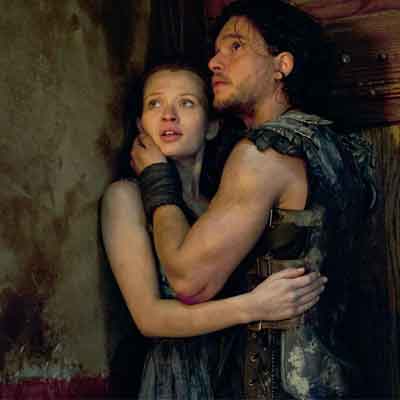 Film: Pompeii
Cast: Carrie-Anne Moss, Emily Browning, Jessica Lucas, Kiefer Sutherland, Kit Harington
Director: Paul WS Anderson
Rating: **1/2
What's it about
Hollywood's obsession with Gladiators and Roman history seems unending. In yet another attempt to cash in on the digital spectacular extravaganza Paul Anderson attempts to use elements from every TV and film ever made on the subject, mesh it into a bloodbath of slow motion fight scenes and Greek mumbo-jumbo to present one of the most tiring love stories ever told. This time it isn't a battle for an empire (300) or a sole survivor fighting for his family (Gladiator), but a romance between a low born fighter (Harington) and a higher ranking Cassia (Browning). Then there is the backdrop of the boiling and about to erupt Mount Vesuvius which is more fun than the sloppy love story.
What's hot
A lot of money has been spent on the special effects and the final outcome justifies the expenditure. Anderson goes all out making sure every frame is shimmering and glittering with gold dust with references to the historical material it is based on. It is cheesy, loud, over the top, the dialogues are all about chest thumping and challenging someone into a fist fight. So if you love that kind of a premise, Pompeii will keep you happy. The climax is majestically glorious in all its detail.
What's not
Kit Harington looks out of place. Maybe because its hard for us to not keep calling him Jon Snow (Game of Thrones) in our heads while watching the film. He's made the six pack and has the body, but he seems disinterested and lacks focus in most of the emotional scenes. There is very little chemistry between him and Browning which actually makes you want to fast forward to the battle scenes. Story wise it feels like a forced attempt to plaster the rich girl-poor boy tale in a different background with no real characters or back stories to them which will keep you engaged.
What to do
Pompeii is grand and lavish in visuals but poor on content.
Watch the trailer