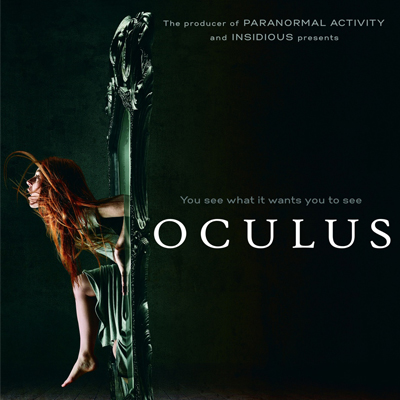 Cast: Karen Gillan, Brenton Thwaites, Katee Sackhoff
Director: Mike Flanagan
Rating: ***1/2
What's it about:
Mirrors have always caught the fancy of writers who deal with the horror genre. There is something beyond an ordinary reflection that can take you to a dark place. In Oculus we are introduced to one such object that is responsible for multiple deaths over the years. We meet a brother and sister pair (Brenton Thwaites and Karen Gillan) who set out on a mission to unravel the mystery behind their parents death. A mirror in particular is their object of suspicion taking them to perform a paranormal experiment that has implications way beyond their expectation.
What's hot:
Flangan has enough ammunition in terms of writing and effects to keep you engaged till the very end. Unlike the usual "don't look behind" tricks, he uses a lot of back ground subplots, psychological elements and characters who are unpredictable to raise the scare. There are no blood curling screams or grotesque faces, instead the horror is often implied and it works because its never over the top. The sound effects and back ground score is in sync with the storyline raising the scare quotient at the right moment. Acting is top notch, with both the child actors as well as adults playing the brother-sister parts to near perfection. Thank fully the writing is intelligent and it makes you think and participate in the action than be a docile observant.
What's not:
There are some unanswered questions that will pop up as you walk out of the theatre ? A more detailed past of the mirrors origin and past would have made the premise more interesting. Also the fluctuating time lines and abrupt flashes of the different between perception and realism gets a bit annoying. Don't expect the spooks to start from the beginning, it does take a while before the ball starts rolling, so patience is a required asset while watching Oculus.
What to do:
Smart and intelligently written, Oculus raises the right scares to keep you on the edge of your seat.