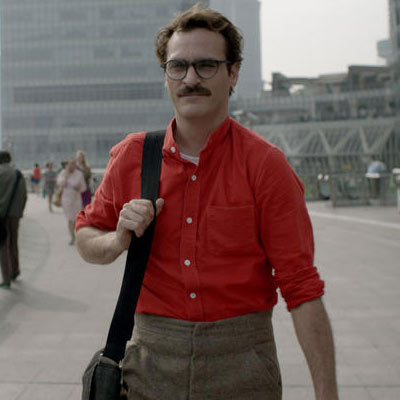 Film: Her
Cast: Amy Adams, Chris Pratt, Joaquin Phoenix, Olivia Wilde, Rooney Mara, Samantha Morton, Scarlett Johansson
Director: Spike Jonze
Rating: ****
What's it about:
Sometime in the not so distant feature Theodore Twombly (Joaquin Phoenix) is working at a place that delivers hand written and heart felt customised letters for individuals who aren't exactly good at being expressive. His job entails him to be empathetic, romantic and a bit of a dreamer as he becomes the characters whose stories he's living.
Unfortunately his personal life lacks the warmth and passion of his letters, going through a divorce he finds solace in the voice of an artificial operating system named Samantha (Scarlett Johansson). She isn't just a voice, but a stream of consciousness that talks to Theodore becoming his constant companion and voice of reasoning. Her tackles the big 'what next' question for mankind, with everyday of our life getting cluttered with phones, tablets and electronic gadgets, will real humans make way for a new technology that can mime the same emotions?
What's hot:
Despite the background and premise, Her is a story about heartbreak, relationships and moving on. Samantha is like a catalyst setting the ball into motion, as Theodore's interaction with her starts peeling off the layers, exposing the hurt and years of unresolved issues that lie within.
Jonze who is an expert of the genre concentrates on building up the right environment early on, taking us to that place in the future and then focusing on the interaction between the man and the voice. Her has a lot of talking, interactions, dialogues, and they all are beautifully interwoven and masterfully written. Phoenix is superb right from the first opening frame of his mugshot to those poignant moments where he realizes he's holding on to something that is long gone.
Johansson's playful, seductive voice that comes out of Theodore's earpiece is more than just a baritone. Her conversations seem human until you realize that she's nothing more than an electrical circuit board. Hoyte Van Hoytema's camera work is exemplary, especially in the close-ups and the scene where Samantha guides Theodore towards a pizza stand.
What's not:
After the novelty wears off, meaning the first few interaction scenes between the two take place, there is a sense of restlessness that settles in. How much more of the same can you watch? Also Theodore's character gets a bit predictable and the pace slackens an hour into the film.
What to do:
Don't be surprised if you find yourself having conversations with Siri after watching Her! A futuristic take on love and longing Her is worth watching for its different premise.
Watch the trailer: