Heroine, though, is not just like Fashion, but resembles every film Bhandarkar has ever made before, and in the most terrible way.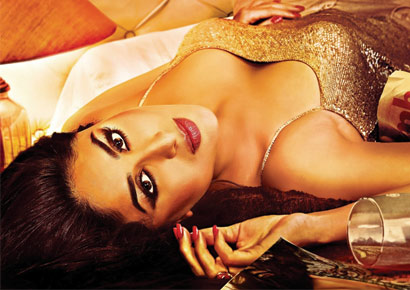 Film: Heroine
Director: Madhur Bhandarkar
Cast: Kareena Kapoor, Arjun Rampal, Randeep Hooda
Rating: **
Mahi Arora is a superstar whose career hasn't exactly been going great guns lately. After having refused to sleep with a superstar actor on the outdoor shoot of her last film, she is left out from the film's publicity campaign, which instead focuses on the actor and another actress who has an item song in the film. In spite of it being declared a blockbuster ("150-crore ki film hai," a trade analyst announces at its premiere), Mahi gets no credit for its success. Soon, the big banners don't want to touch her.
With little work to choose from, she lobbies for a role in Bengali arthouse filmmaker Tapanda's next, 'Tarannum Jaan', on the life of prostitutes. As research, she visits a red light district, meeting sex workers and trying to understand their lives. "She's come to see how we are in real life," one prostitute says. The scene is supposed to bring out the stark difference between two worlds: the one we see in our films: the make-believe one, and the one we don't see in our films: the real world.
In Heroine, though, the attempt to bring out the contrast fails spectacularly because director Madhur Bhandarkar treats his entire film – and not just this sequence - with a single, unwavering, boring tone, laden with hyperbole and fakeness. The characters are all caricatured, the dialogues seem more unreal than the idea of aliens making contact with earth (Yes, even Joker scores there), and the screenplay meanders along aimlessly, it being nothing more than an assemblage of scenes - each disjointed from the other - strung together in a long, sleep-inducing and pointless narrative that stretches longer than a five-day Bangladesh vs Zimbabwe Test match on a dead Dhaka pitch.
Bhandarkar's Page 3, released in 2005, worked largely due to its ability to show what we knew to be true but which was never depicted in a Hindi film before. It used humour and irony to show the lives of those associated with the entertainment world, a novelty for audiences then. Later, Bhandarkar stuck to making films with more or less a similar template, only changing the background every time (politics, business, fashion, police). When Heroine was announced, many wondered if the filmmaker would just recycle his own Fashion, about an ambitious girl who manages to make it big in the bad world of glamour before her downfall and eventual retribution. There were also speculations of the film being similar to last year's hit, The Dirty Picture.
Heroine, though, is not just like Fashion, but resembles every film Bhandarkar has ever made before, and in the most terrible way. In other words, if you take every bad moment in every Bhandarkar film ever made, put them together in a two-and-a-half-hour long loop, the result will be a lot less distressing and a lot more entertaining than Heroine. All stock Bhandarkar characters return: overtly feminine male hairstylists / fashion designers, loud cops, bitchy rumour-mongers, vengeful mediapersons. Many of these are played by actors who make up the background crowd for one scene, only to be re-arranged and repeated again in others.
The only successful irony the film brings out – and unintentionally at that – is that Bhandarkar and his team of writers, Anuradha Tiwari, Manoj Tyagi and Niranjan Iyengar, depict an industry they are themselves a part of without managing to make even a single aspect seem believable or even engaging. The idea is to spill the beans - show the "inner workings", so to speak – but the intention to shock, and therein entertain, is soiled by the fact that the lives of stars and filmmakers stare at us in tabloid pages everyday.
Actress disrupting shoot of actor-boyfriend filming a steamy scene with another actress, bisexual filmmaker sleeping with a male actor in exchange for favours, a sex scandal that fuels the box office prospects of a film, extramarital affairs – every stereotype related to Bollywood you can think up has been crammed into the film. We are never made to forget that the film is about the big, bad "film industry", with every character saying lines like, "Yeh film industry hai," "Iss glamour industry main," "Yeh industry..." etc, before you want to scream out that you get the point.
Heroine, like all previous Bhandarkar films, rests on the shoulders of a female protagonist and benefits from the performance of the actor playing it. In his past films, Tabu, Konkona Sen Sharma, Priyanka Chopra and Raveena Tandon have all delivered performances that have won acclaim and awards. Kareena Kapoor struggles with the pressure of having to make a mark and, probably, outdo those performances. The effort is only too glaring, every dialogue, movement, expression designed to "win awards".
Kareena is stunningly beautiful as Mahi, and gets many scenes that demand histrionics right. But largely, the effort to act is too in-your-face to be enjoyable, and the lack of a character graph doesn't help her cause. Kareena's impressed much more in films where she's put in less effort than what she does in Heroine.
The film's most honest moment comes in Mahi's interaction with a yesteryear star, played by Helen. Mahi arrives on set to find the senior actor sitting on a chair and waiting for her shot. "Why are you sitting out? Why haven't you be given a vanity van?" a concerned Mahi asks her before taking her to her own van. "We had no vans in our time. The joy of acting is all that mattered. Fame and popularity were only add-ons," the veteran says before imparting the most important lesson of stardom to Mahi. It's a very real moment, one that Bhandarkar's shown he's capable of exploring in some of his past films, but an exception in an otherwise cosmetic film.