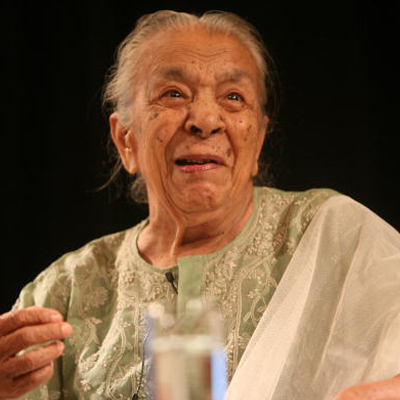 To die at 102 is no mean achievement. For the spirited Zohra Sehgal time never stopped ticking until her last breath. The last time the unvanquished queen of histrionics was in the news was when she was trying to convince the Delhi government to give her a ground-floor accommodation. Her spirit always resided on the top floor.
To imagine the performing arts without Zohra Seghal is a tall order . Born on 27 April , 1912 Zohra started her career with the dancer-choreographer Uday Shankar . No wonder her spirit never stopped dancing.
In 2007 in one of her last screen roles Zohraji had played the Big B Amitabh Bachchan sprightly octogenarian mother in R Balki's Cheeni Kum.
Coincidentally he was working with the same director in Europe when news of Zorhraji's death reaches him.
Reacting to the death of an era the Big B says, "What a lady! What a journey! What an incredible co-star.Ever –smiling effervescent, brimming over with with the zest for life.My prayers for her soul."
Adds Balki who directed her in Cheeni Kum, "She was 94 when she worked with me, and a buddy.She is 101 now...and I speak of her in the present tense because a spirit like Zohraji can never die. She will never stop being a super-content soul and great friend no matter where she is.Zohraji is a loss to humanity, and not just to cinema. She was the happiest soul in the world, I am sure of that. Forever spunky spirited and full of life.. No wonder her performances were so spirited ."
Recalling his shooting experience with Zohraji, Balki says, "Every day that I shot with Zohraji is etched in my memory. I'll cherish and smile at every single moment I spent working with her. I can say this with full certainty that Cheeni Kum couldn't have been made with any other human being.Nothing can take her away from me, not even death."
Shabana Azmi who shared close family ties with Zohraji says, "We must not mourn we must celebrate Zohra Aapa's life which she lived on her own terms.She was an institution and a towering personality of the theatre."