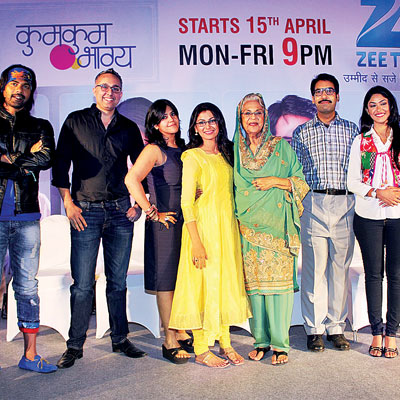 Ekta Kapoor is back with a new offering on Zee TV. Her new show Kumkum Bhagya launches on April 15 at 9 pm. The show will replace her own immensely successful show Pavitra Rishta on the channel. Based loosely on Jane Austen's classic 'Sense and Sensibility', 'Kumkum Bhagya' is its Indian interpretation, following the life of a Punjabi matriarch Sarla Arora who runs a marriage hall and lives with the hope of seeing her two daughters Pragya and Bulbul who're poles apart, happily married some day.
The cast including Sriti Jha, Supriya Shukla, Mrunal Thakur, Shabbir Ahluwalia, and Faisal Rashid were all present for the launch of the show. With Kumkum Bhagya slated to air at 9 pm, Pavitra Rishta will now be aired at 6:30 pm from Monday to Friday. Talking about the time shuffle amongst her projects on Zee TV, Ekta says, "While two of my shows (Pavitra Rishta and Jodha Akbar) are already on-air and doing immensely well on Zee TV, it's a pleasure to extend my partnership with Zee to a third show. Pavitra Rishta has had a run of over four years now and the journey has been most gratifying for me as a producer.
Kumkum Bhagya is so contemporary in its treatment that viewers will be able to instantly spot characters out of their own lives in the show. It's a story of passionate love that anyone with a soul would be able to easily relate to." Shabbir, who will return to TV after almost two years, says, "With me producing shows, it was getting very difficult to manage time for acting assignments. But now, I have decided to concentrate on acting. You can't be away from what you love doing for long."