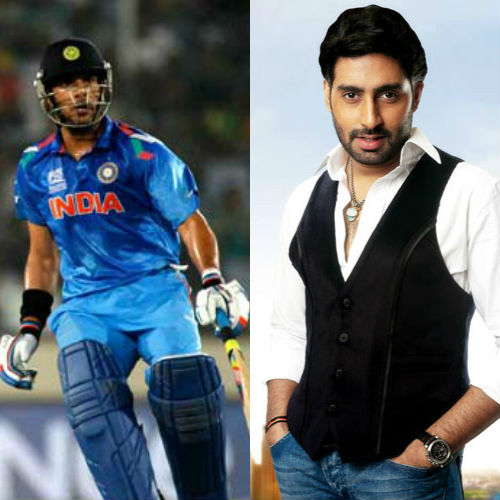 Abhishek Bachchan revealed at a recent event that he wants to play Yuvraj Singh in a biopic based on the cricketer's life.
"I would love to do a biopic on Yuvraj Singh" the actor said. "I love the career graph of Yuvi. It's fantastic."
Abhishek expressed admiration for the cricketer's resilience. "The way Yuvraj has battled all odds in life and the way he has played the world cup, knowing he had cancer deserves a salute. The way he fought cancer too is an extremely inspiring story and I have learnt a lot from him," he said.
Yuvraj Singh has been a part of many of the Indian cricket team's successes. An all rounder, he is both a batsman and a fast bowler.
In 2011 he was part of the team that won the ICC Cricket World Cup and was awarded the Man of the Match for the Tournament. Soon after he was diagnosed with lung cancer and underwent extensive chemotherapy. He made his comeback just before the T20 World Cup in 2012. Yuvraj was awarded Arjuna Award, India's second highest sporting award, in the same year. This year he was awarded the Padma Shri by the President.
"His career has gone through a lot of ups and downs. He has gone through a lot of pain." Abhishek said as he admired how the cricketer has battled all odds.
Abhishek said that he could have chosen cricketing legends Sunil Gavaskar and Kapil Dev but he could never dare to play them on screen. He has previously played the character of Gurukant Desai, said to be loosely based on the life of the industrialist Dhirubhai Ambani, in the film Guru. If he does indeed play Yuvraj Singh in a film, it would be his first full-fledged biopic.
Biopics on sportsmen and women have started to become popular in Bollywood. Last year, Bhaag Milkha Bhaag, based on the athlete Mikha Singh. was a huge hit. The film starred Farhan Akhtar and reportedly grossed over 200 crores at the box office. A biopic based on the boxing champion Mary Kom played by actress Priyanka Chopra is set to release later this year.