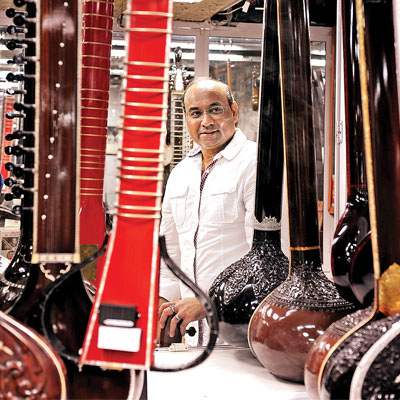 Give me a piece of wood and I will make you any instrument you want," declares Sanjay Sharma, who carries on a three-generation legacy of service to the finest traditions of music from his shop in central Delhi's Gole market. That 'piece of wood' could be from the wreck of a 100-year-old haveli from south India. Or Burmese wood sourced from outside the country. Or from trees such as spruce, walnut and mulberry.
Sharma, 50, is the luthier behind pandit Ravi Shankar's resized studio sitar and his daughter Anoushka's microphonic sitar. The list of achievements over a three-decade career also includes Karsh Kale's metallic microphonic sitar, Rahul Sharma's electronic santoor as well as a resized Tanjore tanpura and cello. Sharma is also responsible for fusing the Western mandolin with the Indian santoor and coming up with the surolin. And, for taking the pumpkin — a hollowed out, dried pumpkin that forms the head of the sitar — away from the stringed instrument to come up with the rikE sitar, which is made up of just the finger board but retains the rich sound of the sitar.
"The difference between other instrument-makers and us is that being musicians ourselves, we know the various nuances that crop up while crafting an instrument. Our work starts where others' stop. If you have a will to play and a request to fulfil, the Rikhi Rams will give you your instrument," says Sharma.
He is the grandson of the legendary luthier Rikhi Ram and the son of Bishen Das Sharma from whom he has inherited his creativity and innovation skills. Their most famous clients include Ravi Shankar and the Beatles. Prod him a little more and the client list that tumbles out comprises the who's who of Indian music, classical and contemporary — Pandit Jasraj, Amjad Ali Khan, Vilayat Khan, Bismillah Khan as well as Indian Ocean and Midival Punditz to name a few.
His father was known for the mohan veena, and for introducing variations in the sitar.
The eponymous Rikhi Ram shop was first set up in pre-Partition Lahore's Anarkali market. After Partition, it moved to Delhi's Connaught Place and now to its current location in Gole Market. "Today, the Rikhi Ram shop is no longer just a shop, it is an institution. We cannot survive without musicians, and neither can they without us," says Sharma.
"My grandfather was a musician in Lahore and got a job as a caretaker of musical instruments in a museum there. As he spent time with the instruments, he wanted to learn the art of making them. He learned the craft from Ramzan Khan Poonchwale. His harmoniums with ivory-inlaid work, white keys made mother of pearl and black keys crafted from aged ebony, they were a work of art. My father and us (Sharma and his brother Ajay) took the craft forward."
Sharma has a fund of anecdotal gems. Like the time his grandfather imported the seeds of the pumpkin from Africa and sowed them on Indian soil. "These plants need a specific weather and now thrive in Pandavpur in Maharashtra and in West Bengal's Hooghly region," says Sharma. Or, the time when Amjad Ali Khan, a member of the Sangeet Natak Akademi, urged the board to institute an award for music instrument-makers because Sharma and his brother did not see it as a lucrative profession. "Ustad-ji urged the board to institute the award saying that Indian classical musical was in danger if the Rikhi Rams did not make instruments. They gave the first award to my father in 1998."
Perhaps the most endearing — and oft told — is the story about the Fab Four walking into the shop and not being recognised. "In 1966, the Beatles were on an unofficial trip in India after a tour in Philippines was called off. They sneaked out of their hotel to come to our shop. My father did not recognise them, and a friend told him that these are the famous Beatles. As a crowd gathered outside, they requested for the instruments to be taken to their hotel room. Harrison brought a sitar from us; he was the keenest Beatle," says Sharma.
"I think he was very much responsible for putting Indian music on the global map, as much as guruji (referring to Pt Ravi Shankar)," he adds as an afterthought.
Sharma and his brother were both disciples of Ravi Shankar as was his son Rishab. "He was guruji's youngest disciple. Guruji called us to his Chanakyapuri home, and when we reached there the next day, he was sitting ready for a havan. He took my son under his tutelage," says Sharma.