The ALS Ice Bucket Challenge has caught the attention of celebrities all over the world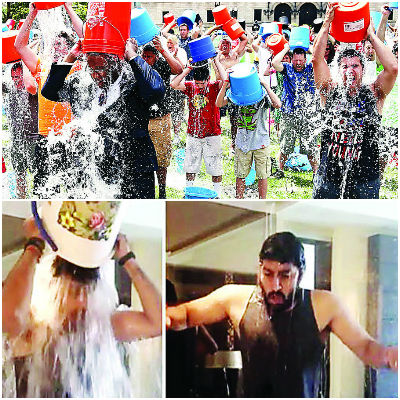 What is the ALS Ice Bucket Challenge
The ALS Ice Bucket Challenge is actually a charitable movement on social media which involves either dumping a bucket of cold ice water over one's head or making a donation worth $100 to the ALS Foundation for the study of finding a cure for the ALS disease. Amyotrophic Lateral Sclerosis (ALS) is the term used to describe motor neurone diseases. The ice bucket challenge started after a baseball player with ALS, Pete Frates, volunteered to have it done to him.
How does the challenge work ?
Within 24 hours of being nominated/challenged, one has to film the dumping of ice bucket on yourself and post it on a social platform. Oh! And once you complete the challenge you nominate other to take up the same challenge!
Who's done it in the West?
There are hundreds of videos online of celebrities taking the challenge and nominating their friends, Hollywood bigwigs like Tom Cruise, Katy Perry, James Franco, Lady Gaga, Taylor Swift, Selena Gomez, Zac Efron, Justin Beiber, Bill Gates and many more have participated in the challenge. David Beckham, Usain Bolt and Tiger Woods too faced the bucket proudly! US President Barack Obama was nominated but he politely denied the challenge.
ALS challenge bites Bollywood
Well it's no wonder that the ice bucket challenge is catching on and spreading like wild fire with our B-town celebrities. Bipasha Basu recently posted a video on Instagram taking up the challenge though we were disappointed by the size of her ice bucket! Sania Mirza took the challenge twice as people accused her of not having enough water in the bucket! On being challenged by her, Riteish Deshmukh who is in Krakow shooting for Bangistan inflicted an ice bucket on himself in the chilly weather and nominated Sidharth Malhotra, Akshay Kumar and Abhishek Bachchan to do it next! Last heard, Akshay and Abhishek took up the challenge and posted their videos on social network.
Is it actually helping the cause ?
So far, the Ice Bucket Challenge appears to be working for the ALS Association. In the same period last year, the national organization raised $1.9 million (approx Rs115,539,000). Not only has the challenge increased that exponentially, it's also brought in 453,210 new donors, the ALS Association said this week.
Criticism for the challenge
While most of the celebs have jumped on to do the challenge, some experts have challenged the idea. They have questioned how effective the effort has been, calling it 'clicktivism' or 'hashtag activism'. "A lot of the participants are probably spending more money on bagged ice than on ALS research," wrote Will Oremus in Slate.