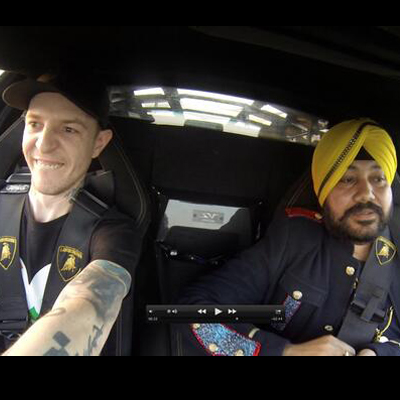 Deadmau5 is known for going on coffee runs with famous celebrities. He's done it plenty of times.
Here he is with Pharrell Williams.
And here with the 'Clarity' artrist Zedd.
With Canadian comedian Russell Peters. Which is hilarious by the way.
And former Motley Crew drummer Tommy Lee
So when deadmau5 came to India for the first time and took to the stage with Daler Mehndi, after re-mixing a song with him, a coffee run with the Indian recording artist was inevitable.
#DalerMau5 or #DeadMehndi ?! @dalermehndi onstage with @deadmau5 pic.twitter.com/mRQyLZmfZS

— Sunburn Festival (@SunburnFestival) March 16, 2014
Okay. I just did a coffee run. WITH daler mehndi. IN a fuckin Lamborghini CS, DOING 250kmph. ON a fuckin F1 track! Epic epic epic.

— deadmau5 (@deadmau5) March 16, 2014
Killin it with Mehndi. Ill post the whole episode when i get home. leaving soon, you'll be missed india! ill be back! pic.twitter.com/7k5T538R8t

— deadmau5 (@deadmau5) March 16, 2014
See @dalermehndi the #mau5 is always right !! @deadmau5 pic.twitter.com/n9uvLOBG4B

— Denver Viegas (@DenverViegas) March 16, 2014
As expected the 'Strobe' singer took to his YouTube channel and uploaded his latest coffee run.
Going for a leisurely ride in a Lamborghini, the two artists bond over all things music, discussing their different genres, complementing each other's styles, as well as taking a couple of subtle digs at Yo Yo Honey Singh.