Kim Kardashian to marry Kanye West in a Kate Middleton-style wedding gown... Meanwhile, there're many instances where Kate has aped Kim's style.
Kim Kardashian and Kate Middleton are unlikely style sisters. While we are sure they don't exactly share fashion tips, it's strange that Kate has been spotted wearing styles that Kim has sported before. In fact, the tables may be turned as the latest Hollywood buzz is that the blushing bride would like her dress to look exactly like the Alexander McQueen gown Kate Middleton wore for her wedding to Prince William. Here's taking a look when Kate pulled a Kim...
Sarah Burton velvet gown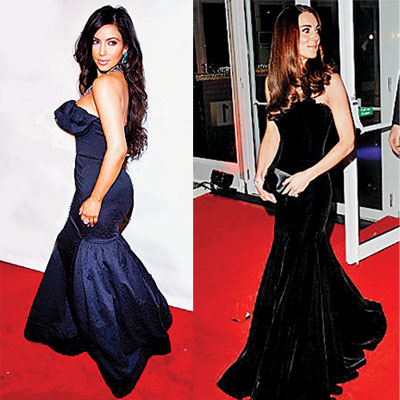 Designer Sarah Burton designed this black velvet gown for Kate under the Alexander McQueen name. Kate wore it December 19, 2011 at the Sun Military Awards. While Kim wore it a charity event in 2010.
Jenny Packham dress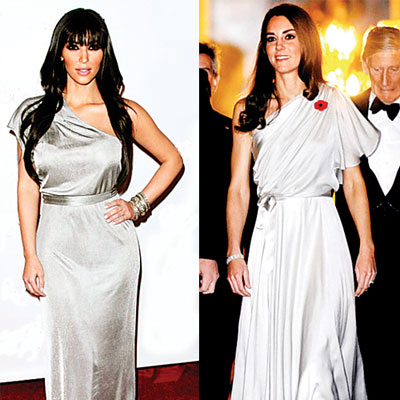 Kate sported this silvery asymmetric Jenny Packham evening dress at November's National Memorial Arboretum appeal on November 10, 2011. Kim wore something similar for Flaunt Magazine's 10th anniversary back in 2008.

Alexander McQueen dress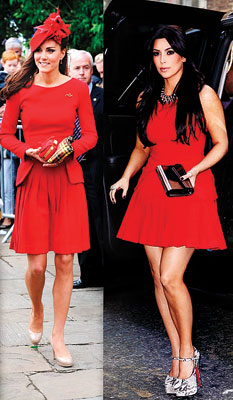 The Duchess of Cambridge dazzled in a red, knee-length Alexander McQueen dress for Queen Elizabeth II's diamond jubilee pageant on June 3, 2012. While the dress looked demure on the 30 year-old royal, it looked downright saucy on Kardashian, who wore the same dress over a year ago.

Moloh Workers Coat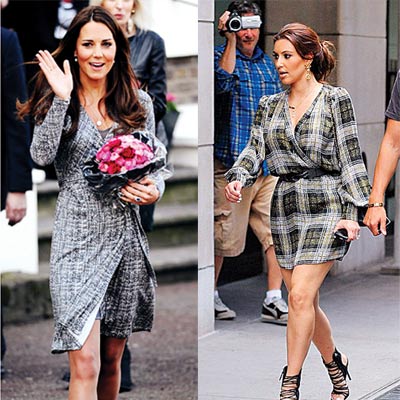 On September 22nd, 2013 Kate was photographed on the Balmoral estate wearing a Moloh Workers Coat in a plaid print. Kim wore something similar while shopping for her wedding dress in August 2011.
When Kim pulled a Kate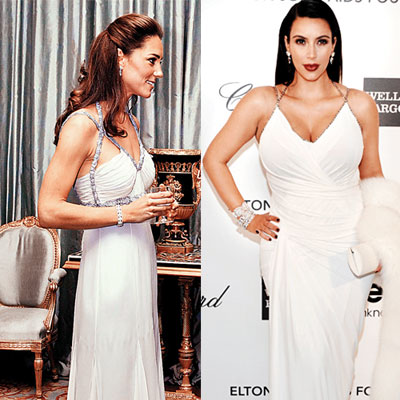 Kate sported this Amanda Wakeley number on 26 October 2011 at an event at Clarence Hall. It was unusual for her as Kate generally keeps her shoulders covered. Kim Kardashian wore this stunning grecian style gown at the Oscars 2013.