Dancing, digs and belfies..here's what went down at the IIFA concluding day
The bursting firecrackers and a colourful explosion of Tampa Bay's various cultural flavors on stage with dancers during the inauguration of the 15th IIFA was just the best of what was yet to come.
Sparkling chemistry of the hosts
When the new jodi of Shahid Kapoor and Farhan Akhtar came on stage to host the show, no one expected to be in splits though out the night..The two dressed as pirates kept the audience thoroughly entertained. In a particular section which had a theme song for a film both sang Tu mere agal pagal hai for Bhoot, while Farhan sang Dooba Dooba Rehta hoon for Titanic. The best was reserved for Sandra Bullock's Gravity. Shahid sang "Aaj mein upar aasman neeche, aaj mein aage, NASA hai peeche..."
Shahid's comments upset Saif?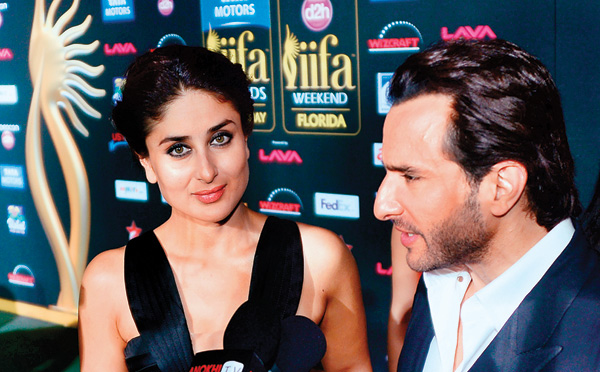 Bipasha Basu and Harman Baweja were named the new Barman couple after Saifeena (Saif and Kareena). While a Bipasha took it sportingly, Farhan even commented that now they wouldn't have trouble getting into bars. Saif wasn't spared too. While Shahid and Farhan said Indians do many things to get a free ticket and free food in the US, including Saif. Farhan said pointedly that even Saif loved free cake as he had seen it in Dil Chahta Hai while Kareena didn't know whether to smile or frown, a stubbled Saif looked distinctly disgruntled and refused to even look at the hosts, let alone smile. Maybe it was because Shahid who was cracking jokes at his expense too!
Hyper Ranveer
Ranveer Singh wasn't spared by the hosts either. Shahid-Farhan commented about the fact that he couldn't sit still for too long and was probably running around somewhere. They even tried imitating him and his boundless "energy" levels by jumping and prancing around like him but finally gave up!
John rings the ghantiya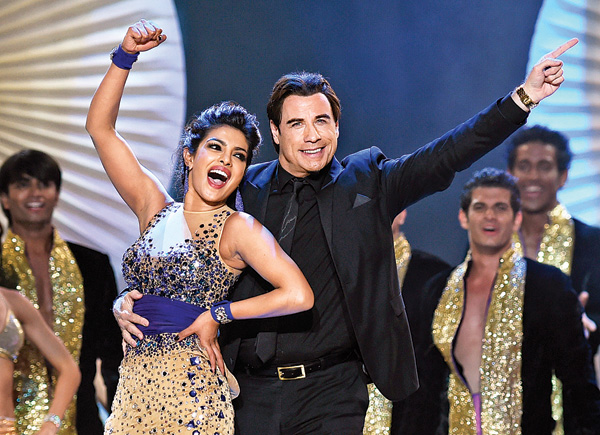 One of the highlights of the show was Priyanka Chopra's act. Which concluded with the Dil mein baje ghantiya song from Gunday, Ranveer Singh joined her on the dance floor. But she shooed him away and asked John Travolta to dance. And dance he did copying every move of PC's to perfection, so much so that the actress later commented that he showed what a true dancer he was - one who can dance so well without rehearsing.
Saturday night fever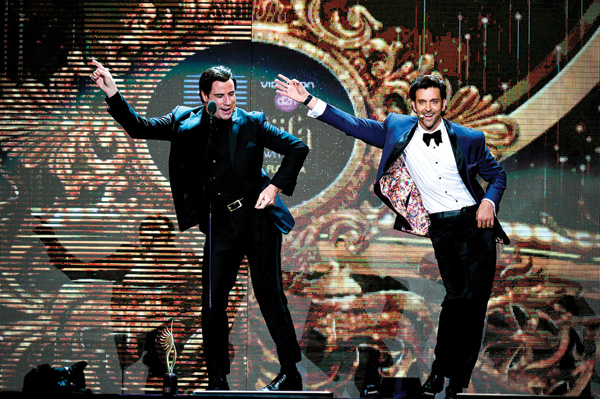 After PC's act, Hrithik releases Wizcraft's coffee table book on the last 14 years of IIFA along with the "Wizzes" - Sabbas Joseph, Viraf Sarkari and Andre Timmins. Hrithik stayed back to also award Travolta for Outstanding Achievement in Indian Cinema. He told people that Travolta had inspired him to dance with his Saturday Night Fever moves since he was five years old. And even asked the senior actor to show him the same moves. Both danced on stage together. It was a sight to see - two of perhaps the world's best dancers on stage together.
Lungi dance
A few minutes later Kevin Spacey was asked to give the award Deepika Padukone for the Best Entertainer Of The Year for giving four hits last year. Farhan and Shahid joined Deepika and Spacey doing the lungi dance. When Kevin couldn't wear the lungi Farhan even helped him tie it! The funniest part was when Shahid refused to part with Kevin's lungi saying he's worn it. "Main nahi doongi lungi" he tells the girl who's come to take it and runs away with it.
It's now a belfie not a selfie
Shahid and Farhan went down from the stage to take a belfie (butt selfies) of them along with Ritiesh Deshmukh, Govinda, Boman Irani and themselves - all butts sticking out with poor Govinda looking confused. And guess who took the picture? Bipasha Basu!
Raju aur Pappu
The best part of Shahid-Farhan's act was the pair's rap section - called Raju (Farhan) aur Pappu (Shahid) where they rapped "gandi baat" with sexual innuendoes to various celebs in the audience. Nobody was spared - from Parineeti Chopra to Vivek Oberoi, to Sonakshi Sinha and Farhan's father Javed Akhtar. When Govinda was asked by the duo how he managed to win over so many women he rapped back "ankhiyon se goli maare." Sonakshi and Akhtar gave it back. When the actress was asked what she was wearing was a Prada or or something from off the shelf, she told them to buzz off. Then she told Shahid she would tell him what she thought about it backstage when she met him alone! Javed Akhtar put paid to the duo's rapping when he rapped back saying now they should stop as they were terrible at it and soon he would forget his shairis too if they went on.
Sequel ke baad
The duo didn't even stop making fun of each other. When the section on sequels came up Farhan said he was asked to do a prequel to R...Rajkumar called Q... Rajkumar? to which Shahid quipped even he had been approached to do a sequel to Bhaag Milkha Bhaag called Ab Tu Bhaag Mat Milkha.