For someone who has won innumerable awards in his lifetime, do they still matter? Amitabh Bachchan speaks to After hours on what they mean to him.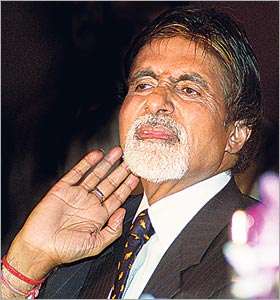 Says IIFA ambassador Amitabh Bachchan, who has now roped in Jaya, Abhishek and Aishwarya to help him save the earth
Being the ambassador for IIFA (India International Film Awards) for the eighth consecutive year, Amitabh Bachchan is pretty excited about it being held in Yorkshire, UK, this year.
He says, "Yorkshire is beautiful and has a very large Asian community. Such events always manage to propagate the coming together of different communities."
The superstar is amazed at the popularity of Bollywood amongst foreigners. "I've had non-Asians who don't even know our language coming up to me and saying they liked a particular movie of mine. Some don't even know my name, but know the characters I play. Such is the reach of Bollywood," he says.
IIFA is also associated with Global Cool, which is an institution concerned with weather changes that are taking place because of the emission of carbon dioxide into the atmosphere.
Bachchan says, "If we don't take preventive measures against these emissions, we will all be doomed. For India it is all the more important to know about this because the common man in India earns his living from the earth. I, for one, have pledged to help save our earth from global warming and I have also made Jaya, Abhishek and Aishwarya take the same pledge. If we can make even little bit of difference, I am sure it will help everybody in the long run."
Coming back to IIFA, for someone who has won innumerable awards in his lifetime, do awards still matter? "Oh yes! We don't hanker, crib or cry for awards, but if an institution wishes to reward our work, we will happily accept it."