Singer-turned-actor Meiyang Chang talks about his lady love, singer Monali Thakur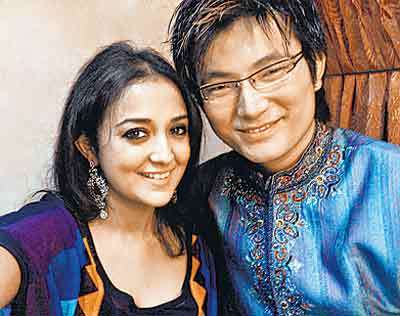 For those babes who love Meiyang Chang, its time to be disappointed. Indian Idol contestant-turned-host turned actor Chang who has been quite a hit among young girls is no longer single. He is in love and he is happy to talk about it. Chang is dating singer Monali Thakur who came to the limelight with Indian Idol and later with the Katrina Kaif song Zara zara touch me from Race. "We met at one function and it wasn't like instant spark. But gradually, we fell in love with each other. We are very happy together," Chang says.
He is very proud of Monali's achievements. "I think after Shreya and Sunidhi, she is one singer who has amazing versatility right now. And I am very sure that she is going to have bigger hits than Zara zara touch me in future," he adds.
Both sides of the parents have come to know about their relationship and fortunately they do not have any problems. "Our parents know and they don't have any issues."
Being a Libran, Chang is very moody and that's what Monali has a problem with. "I am extremely moody and I know, she has to cope up with it. And I know she doesn't like it. But we know each other enough to support in good andbad times." And what he doesn't like in Monali? "She is not punctual at all," he quips.
Is this relationship going to materialise into marriage? "We have just started knowing each other. We are very young and yet to make a proper career for us. Marriage can come later, it's nowhere near our thought process," he says.
Like Monali, Chang too started his career in showbiz with singing.
Instead, he has gone ahead with hosting and acting in films. Are there any plans for taking the plunge into singing? "Singing is something that I always loved. When I joined Idol, I hardly expected that I would go so far in the competition. But people showered me with so much love. I would love to sing, but nothing concrete as of now," he ends.