And the internet went wild!
The Hollywood sweetheart, once again, gave her fans yet another moment to cherish. While at the Golden Globes earlier today, American Hustle actor Jennifer Lawrence photobombed Taylor Swift on red carpers. Swift who was in the middle of an interview with TV show host Ryan Seacrest didn't realise Lawrence creep behind her.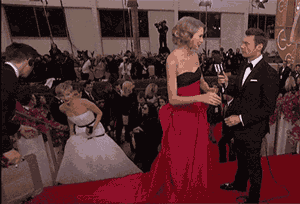 Ryan Seacrest Instagrammed the moment, making the Internet go wild!
The two, however, later exchanged a little chat, where she joked about wanting to push her down the stairs.
Watch the entire episode (in slo-mo, too!) in this video by the Golden Globes: