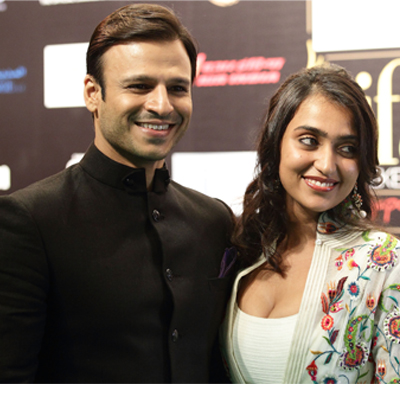 Vivek Oberoi, a writer? It's possible.
The actor, takes to writing a film script soon. His mother-in-law Nandini Alva seems to believe that he has it in him to write a great story.
The actor is very close to his ma-in-law Nandini Alva, the Janata Dal Secular candidate from Bangalore Central at the recently concluded elections. Vivek even used his celebrity status to campaign for her. Although Vivek got married to Priyanka, two years ago, he has known his sasu-maa for years, who is a family friend.
They have a healthy respect and love for each other and often talk about social work, politics and films. And she has been urging him to pen a script.
Nandini confirms that she has been pushing her jamai raja to take a shot at writing, "Vivek also has a great story writing ability. He is a voracious reader and a great memory that is a gift of God. I keep nagging him to couple of scripts. He is brilliant but hasn't had the time to write a full fledged one."
Vivek says, "It's really sweet of her to say that. I have been collaborating on a few scripts with the writers of the films I have been acting in. It's true that I have some ideas that I am in the process of developing and fleshing them out but I am yet to complete a script. At some point, if people are interested in hearing them I will narrate my scripts to them. I have no intentions of becoming a director though. My interest is only in writing and I love writing on intense and passionate romantic stuff."
He has bounced off his scripts to his wife Priyanka too. He adds that his first brush with writing was when he started writing poetry. "I have been writing poetry for years. I started when I was a student in Mayo School and then in college I won a few competitions in poetry writing. It's a very personal thing and I haven't shared it with anyone yet. I had more exposure to the writing craft when I was studying in New York and became more serious about it."