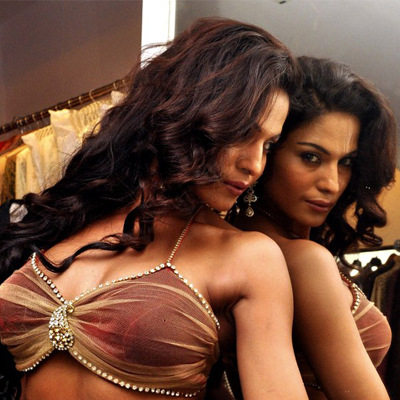 After laying low for quite some time, Pakistani actress Veena Malik made a stormy comeback on the social media after an anti-India tweet was posted from an unverified account @iVeenaMalik on Saturday.
The actress, who shot to limelight in India with her controversial stint on reality show Bigg Boss season 4 and shifted base to Mumbai to revive her fledgeling career, took to Twitter to post the unsavoury comment.
India sucks.....!!!

— Veena Malik (@iVeenaMalik) March 15, 2014
The actress, who recently tied the knot with businessman Asad Bashir Khan Khattak, has moved to Dubai.
The account, which has over one lakh followers, sent out the tweet over 9 hours ago after re-tweeting a post about a German student getting molested by auto drivers in Delhi. The tweet, which went viral on social media in no time, sparked online furore and mass trolling of the account.
Here is how tweeple reacted to the tweet:
I am totally enjoying Veena Malik getting trolled black and blue, Although I doubt her ability to understand that she is being trolled

— Priyanka Lahiri Sen (@lahirip) March 15, 2014
Today's charity done - Gave Veena Malik her 2 minutes of fame.

— Sue (@witchybitchygal) March 15, 2014
Veena Malik shouldn't forget that she earns her bread and butter in India and if we think we'll send you back to Pakistan!

— Bhargav Pataskar (@iBhaargav) March 15, 2014
Veena Malik shd join with kejriwal's #AAP ,she badly need it,n she deserve it also! when i saw her trendind 4 a moment i think she join #AAP

— Avinash Zaware (@avinash_ak47) March 15, 2014
Thank you Veena Malik twitter had become quite boring recently...u gave a reason to tweet n abuse!

— Dipesh Parmar (@dipeshparmar46) March 15, 2014
People like Veena Malik, KRK & Ashutosh shouldn't have parody accounts. Nothing can be funnier than their own accounts!

— Keh Ke Peheno (@coolfunnytshirt) March 15, 2014
I think Veena Malik got pissed after Emraan Hashmi refused to smooch her

— Champ-u-terology (@BolshoyBooze) March 15, 2014
Amazing thing about Veena Malik's tweet "She wrote a grammatically correct sentence in English". Wow

— Gurpinder Singh (@gurpindersinghs) March 15, 2014
Now we should send Rakhi Sawant to pakistan for revenge, after all she is only lady in India who can compete Veena Malik .

— The Corrupt Guy (@mkkhedawat) March 15, 2014
I think Veena Malik has been offered some remake of Shakeela's Movie... So she is Frustrated...

— Si? Jsh?™ (272+) (@_Sir_John_) March 15, 2014
I'm sure now after sometime Veena Malik will tweet her account was hacked or it was her nephew who tweeted that

— King_Drunkard_IV (@KingDrunkard) March 15, 2014
In response to the tweets, a tweet was sent out from the account explaining the reason for posting the initial tweet.
The reason I tweeted what I did.....!!! https://t.co/Hi3N064RhC

— Veena Malik (@iVeenaMalik) March 15, 2014
The account even re-tweeted a story on Malik's controversial comment.