The actress has a lot to be thankful for — from a highly acclaimed debut Vazhakku Enn: 18/9, to non-stop offers from the north and south.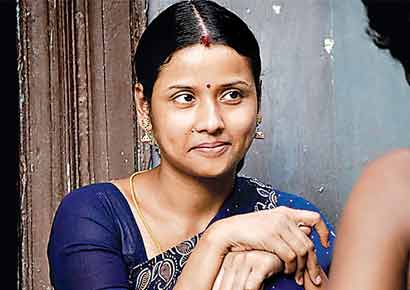 One look at her on screen and you know she's going to make it big. In an age when drop dead gorgeous looks are slowly losing their charm in regional cinema, Urmila Mahanta's next-door-girl good looks seem to work wonders for her budding career.
"I'm actually Assamese and am from Sonapur in Kamrup district, though I've spent a large part of my growing up years in Mumbai. I was studying in a film institute in Pune, when on a visit to Goa for a film festival, I bumped into Balaji sir. He seemed to take a liking to how I looked and told me that he'd cast me in his next film. Obviously, I didn't take him too seriously, but soon enough I was being called for auditions to Chennai," opens Urmila as we speak to her on a sunny Sunday afternoon.
Call it luck or perseverance and true talent, but Urmila was one of the few faces to be selected for the film, post a wide talent search that lasted over two years. "The auditions were rigorous and that convinced me of the director's mettle. His method of auditioning was as real as it could have got! We were asked to wear our costumes and then walk into the streets of Chennai and interact with the common people. Temples, the Railway Station, markets — you name it and we were shot there, obviously using hidden cameras. Even after such a gruelling audition, I was informed of having bagged the role only ten days before shooting started. It was an experience in itself!" she continues.
Ten days! We ask, surprised. "Yes, just ten days and I packed my bags and said 'this is it!'. I was sent to a slum to imbibe the qualities someone like my character Jothi would possess, but the two days allotted was really nothing. If my character came across as being real, it's all thanks to Balaji sir's direction and the freedom he gave me in playing around with the character," Urmila explains.
Suddenly we realise that Urmila is actually Assamese and so her dialogues must have been dubbed. Urmila minces no words, answering, "I was dubbed and would love to meet and thank my dubbing artist for making me look so convincing. I do not know Tamil and so I tried as much as I could to seem fluent in the language when mimicking the lines — it's come out pretty well and that's all I could ask for. Vazhakku… was the best decision I ever made."
Frank, sorted out and convinced of her love for roles filled with conviction, we ask Urmila if the rumours about the remake of the movie into Hindi are true. "I just heard about it too and it seems exciting, though I haven't been approached as yet for a remake," she says, and we continue, asking her about her rumoured Hindi debut. "Well, there is something happening, but I've been asked to not talk about it and I shall do just that," she laughs and concludes are quick chat.
With actors like Urmila making their way into the regional film industries and their films doing commercially well, we wonder if Bollywood will soon take notice and possibly take cue?