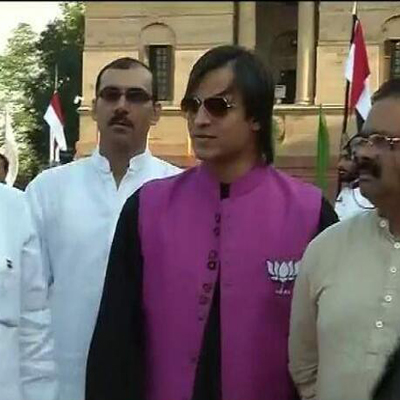 Narendra Modi took oath as the 15th Prime Minister of India on May 26 in a star-studded ceremony. Apart from international dignitaries like Pakistan Prime Minister Nawaz Sharif, Afghan President Hamid Karzai, and Sri Lankan President Mahinda Rajapaksa, several Bollywood actors were also present at the function.
While Hema Malini, Shatrughan Sinha and Vinod Khanna contested the recently concluded Lok Sabha elections on a BJP ticket, other celebrities like Salman Khan, his father Salim Khan, Anupam Kher and Madhur Bhandarkar also attended the ceremony.
However, it was actor Vivek Oberoi who became the buzz on social media.
Oberoi, who had previously campaigned for Modi, was among the Bollywood celebrities who were invited for the ceremony. Oberoi has been seen active on Twitter regarding his political views.
The actor expressed his excitement on Twitter, about being a guest at the ceremony.
What an incredible celebration of democracy!The positive energy was palpable in the air tonight!A historic night, a great beginning! #NaMoPm

— Vivek Oberoi (@vivek_oberoi) May 26, 2014
At the inauguration, Oberoi was spotted in an eye-catching pink jacket with the Bharatiya Janata Party's (BJP's)​ lotus symbol stitched on. This rather unconventional fashion sense got him on the list of the most trending on Twitter. Several Twitter users mocked his style and presence at the ceremony:
Amitabh Bachchan,Vivek Oberoi & Salman Khan All divided by Aishwarya but United by Modi.LOL# Modiministry #MyPMNaMo

— shakeel (@firshak) May 27, 2014
Vivek Oberoi & RahulGandhi seated next to each other at the ceremony.Were they promised a screening of Chhota Bheem? https://t.co/q30FmLnS90

— Kay (@KaputKay) May 27, 2014
Vivek Oberoi is such an idiot, still wearing lotus on jacket when NaMo has replaced lotus with Tiranga -_-

— Aryan (@IMaryan3vil) May 27, 2014
Congratulations to Vivek Oberoi for consistency as his name has been on twitter longer than his movies stay in theatre's!

— Dipesh Parmar (@dipeshparmar46) May 27, 2014
Reminds me of Rakhi Sawant's fancy dress :) RT @Roflindian Vivek Oberoi is redefining BJP. Black, Jasmine and Purple. pic.twitter.com/OMuOUT9IS0

— Tinu Cherian Abraham (@tinucherian) May 27, 2014
Vivek Oberoi was invited to the Oath Ceremony, because Modi wanted to show that his govt is committed to everyone, including idiots

— The Bad Doctor (@doctoratlarge) May 26, 2014
#VivekOberoi was a part of the Swearing ceremony. Atleast this, unlike his bollywood films is giving him Visibility and fame

— GossipEverywhere (@gossiplaila) May 27, 2014
Cricket icons Mahendra Singh Dhoni and Sachin Tendulkar also made it to Delhi for Modi's inauguration ceremony.