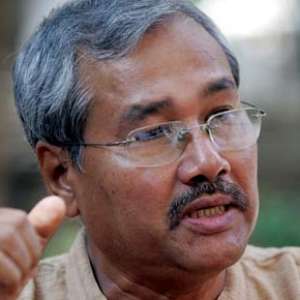 Award-winning films of this year - Jahnu Barua's Assamese film Ajeyo and Pradip Kurbah's Khasi film Ri: A Homeland of Uncertainity - are set to be screened at a three-day North-East film festival here.
Beginning August 22, a total of eight films, one each from all the eight states from the North-East would be shown at the three-day festival titled "Fragrances from the North-East" organised by the Directorate of Film Festivals.
Mizo feature film Khawnglung Run (The Raid of Khawnglung) directed and produced by Mapuia Chongthu is set to open the festival that has been curated by film critic Utpal Borpujari
Movie buffs would also get to listen to singer Angarag Papon Mahanta and his band The East India Company scheduled to perform at the opening ceremony on August 22. Similarly performances by classical pianist Nise Meruno and choir group the Nagaland Singing Ambassadors are scheduled on the closing day.
"Acclaimed filmmakers Jahnu Barua and Aribam Syam Sharma, and actors Danny Dengzongpa, Seema Biswas, Adil Hussain and Geetanjali Thapa will attend the festival," organisers said.
Jahnu Barua's film based on the Sahitya Akademi Award winner 1997 Assamese novel Ashirbador Rong written by Arun Sharma and adapted as screenplay by the director himself. It was awarded Best Feature Film in Assamese at the 61st National Film Awards.
Kurbah's Khasi film 'Ri: A Homeland of Uncertainity' had also bagged a national award at the same film awards.
Also in the lineup is a short film Bamboo Shoots directed by Steven Ao and a documentary Going the Distance directed by Tiainla Jamir both from Nagaland.
Representing Sikkim would be Prashant Rasaily's Gurkhali film "Katha", while Manipur, Tripura and Arunachal Pradesh will be represented by Oinam Gautam Singh's Manipuri language film Phijigee Mani, Joseph Pulinthanath's Kokborok language film Yarwng and Ahsan Mujid's Monpa language film Sonam respectively.
"Come and enjoy the food, films and handicraft of North East. Don't miss this opportunity to experience, feel and enjoy the fragrances wafting through the city," Shankar Mohan, Director, Directorate of Film Festivals said.
The festival is expected to be a cultural extravaganza with exhibition-cum-sale counters of traditional handicrafts and artifacts from North-East and food stalls selling ethnic cuisines.
A painting exhibition organised by Lalit Kala Academey will also feature at the venue.