In the role of a formidable theatre artiste, in blind passion with her craft and the history of plays, Paoli Dam says 'Natoker Mato' will throw up a new genre of 'theatre and film overlapping each other's space.'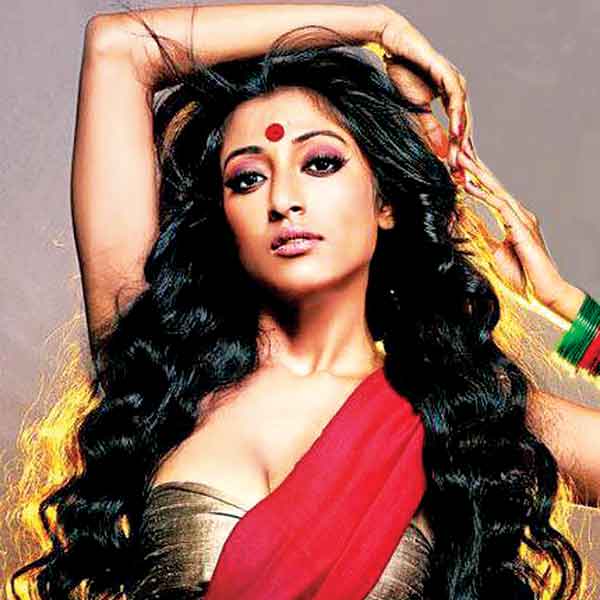 In the role of a formidable theatre artiste, in blind passion with her craft and the history of plays, Paoli Dam says 'Natoker Mato' will throw up a new genre of 'theatre and film overlapping each other's space.'
"There are lot of theatres in this film. I found the idea fascinating. You can revisit the phase of Antigone, Tin Poisar Pala, even Prafulla. Debeshda (director and eminent playwright Debesh Chattopadhay) has shown how real and theatre space, how reel and theatre space meet at one point," Paoli told PTI.
My character unravels the mind of a sensitive theatre artiste, who appears strong-willed and resolute from outside, how her private and professional moments take each other's space, me as a woman can relate to the love, separation, passion and literariness of Kheya, the protagonist," the Madhabilata in Kalbela said.
Paoli, who had performed in stage plays till tenth standard, recalls how she sat with the director-playwright for days, did rehearsal sessions, to grasp the unique format of the film where dramatic elements were used in unconventional sense.
Asked if the character Kheya was loosely based on a cult theatre personality of 70s who was also popular among students of English literature, Paoli said, "Not exactly.
There are shades of different theatre personalities, all belonging to that era. You can say it is build up with the traits of all these women."
"From Ela in Elar Char Adhyay to Madhabilata in Kalbela.To the present Kheya, all these characters have fire burning withintheir selves as visualized by the writer, the director," she said.
Paoli, who took part in a rehearsal shoot for the college social in circa 1965 with actor Sujan Neel Mukherjee and some junior artistes, said, "I find this cultural tradition of Bengal very uplifting. I do remember how we practiced steps at dance classes in those growing up days.
Those evening 'riwaz' sessions at home. As I see in the monitor the shots it takes me back to those days in our North Kolkata para."
"I had also taken part in Hoi Choi, a film based on group theatre activities, but that was more cinematic while being a playwright, having seen from close all those personalities from Utpal Dutta to Sombhu Mitra, Debeshda has a more cerebral take on the emotions, relations and dynamics of that time," Paoli said.
"Bratyada plays the character of the propagator of new wave people-oriented theatre in those times while Rupadi etched out Kheya's mom's role," Paoli said.
Saswata Chatterjee is the friend, mentor of Kheya having experienced some turbulence in the relations.
"We will support in every way a drama-film genre flick like 'Natoker Mato' by a playwright wanting to frame his vision through celluloid," producer Firdaus Hassan said.