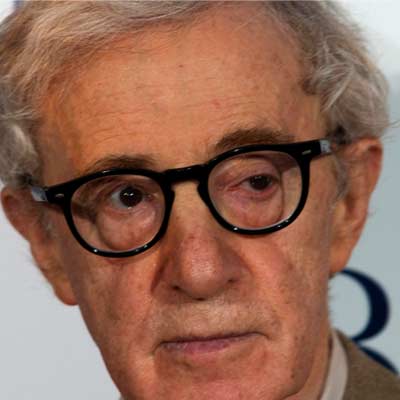 If a friend of a friend of Woody Allen is to be believed, Soon Yi, the star's wife, is "truly the most boring woman you ever met". There is some satisfaction to be derived from the idea of the brilliant comic and director running off with his partner's adopted daughter and discovering that, instead of a sizzling Asian babe, he has saddled himself with a real drag, and an unsmiling one at that.
The relationship between the then 55-year-old star and the 19-year-old girl was not illegal, though it was immoral. Allen's protestation 20 years ago that "the heart wants what it wants" only made it worse. What did the heart of Mia Farrow want when she found Polaroid pictures taken by her boyfriend of her naked teenage daughter who, not that long before, was a little girl on the streets in Korea? How did Soon-Yi's siblings feel about the sister they were raised with moving in with Mom's former boyfriend? What did the hearts of Dylan, Moses and Satchel, respectively Allen and Farrow's two adopted children and (supposedly) biological son, want?
The transgression was mind-boggling. As Ronan Farrow (formerly Satchel) tweeted recently: "Happy father's day - or as they call it in my family, happy brother-in-law's day."
It's hard to overstate the emotional carnage caused by Allen's actions. He destroyed a family, set it against itself and couldn't see the problem. It became possible to believe he was capable of anything. But is that fair?
It's definitely the question this week after Dylan, the adopted daughter he has not seen for almost two decades, wrote an open letter in the New York Times which again alleged that Allen had sexually abused her when she was seven years old.
The no-smoke-without-fire brigade was outraged on Dylan's behalf. They said that her writing with such raw honesty was proof she was telling the truth. Cynics pointed out that the accusations have been dismissed before, and that Dylan, her mother Mia and brother Ronan (now believed to be Frank Sinatra's son… keep up at the back!) had timed the bombshell to coincide with Woody's Lifetime Achievement Award at the Golden Globes. The director is up for a screenplay Oscar for Blue Jasmine, and Dylan also took a swipe at Cate Blanchett and Sally Hawkins, both nominated for their roles in the movie. "What if it had been your child, Cate Blanchett?" demanded Dylan, railing against the Hollywood elite that had turned a blind eye to the director's alleged crimes and misdemeanours.
This is desperately murky stuff, and Allen swiftly claimed Dylan's statement was "untrue and disgraceful". But here's what we do know. Great artists are very strange people.
Woody Allen is not interested in children. If he were, we would know about it. The only child given any time at all in a Woody Allen movie is… Woody Allen. As anyone who has seen Manhattan knows, Allen is drawn to very young women. Girls, yes; children, no.
So was Charlie Chaplin. When he was the most famous person on the planet, Chaplin married two 16-year-old girls, though not simultaneously, which is something, I suppose.
The great director Roman Polanski has actually been found guilty of raping a child under 14. None the less, female stars from Kate Winslet to Jodie Foster have queued up to work with him. One of Polanski's staunchest Hollywood defenders is another actress called… oh, Mia Farrow.
"Now, what's your favourite Woody Allen film?" demanded Dylan, implying that we should never watch any of them again. Some will heed that call. Me, I prefer to think "a plague on all their demented houses". The one good thing about Woody Allen is his movies, and it's the only thing that will survive.