With their second album in the pipeline, Pervez Taufiq, vocalist of Living Syndication is in Mumbai exploring diverse sounds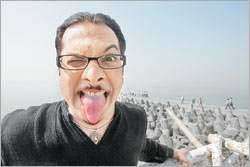 With their second album in the pipeline, Pervez Taufiq, vocalist of Living Syndication is in Mumbai exploring diverse sounds
He has learnt the art of screaming, made music for the last 5 years and hung out with Bono from U2. It's hard to miss the Indian, Middle-Eastern influences and he defines their music as 'rhythmic frustration with melodic overtones'.
Pervez Taufiq, front man of Living Syndication, reminisces about his distorted piano playing sessions with his music teacher.
"He said maybe I'd opted for the wrong instrument," he chuckles. Evidently this did not hold true and the talented musician managed to catch the eye of Fred Durst of Limp Bizkit.
"Fred heard me and said he was interested to sign me up for an album. I told him that I did not have a band and he said form one," Pervez says.
In Mumbai exploring diverse sounds, Parvez explains, "I am an Indian by origin, born and brought up in America. The rhythmic patterns here are very sophisticated and I'm trying to discover music from a different level."
Formed in 2001, Living Syndication received a lot of airplay for their song 'Restrain' in New York a mere month after they got together. Their first album 'Om Factor' got them accolades of praise.
"Our music is something that the thinking man can relate to; it's not just the mosh-pit crowd. We play sitar and tabla during our shows and surprise our audiences," he laughs.
From John McLaughlin, Zakir Hussain to Ravi Shankar, everybody is a big inspiration for Pervez. Among the Western artists, it's Tool, Mudvayne, Alice In Chains and their ilk. "I think Chad Gray from Mudvayne can scream really well," he jokes. According to him, it's important to know the right way to 'throw' your vocals. "I took lessons from Melissa Cross and there is a process to it."
The band that is working on their second album, 'Aneurythm', plans to perform in India at the end of this year along with shooting a video for their single 'Hold'.