Sajid-Farhad, on the second week of their first week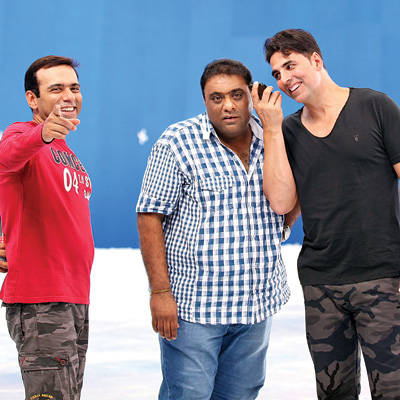 A week after their 'baby' Entertainment was born, 'proud parents' director/writer duo Sajid-Farhad are as excited about their other baby (Singham Returns), which released yesterday. Given their winning streak, a double dhamaka is quite possible...
Entertainment is holding strong at the box-office. Pleased!
Sajid: It just proves our conviction in the subject. It establishes the fact that content is king. We are happiest about the fact that the film has touched a chord among the audiences. People are taking their families to see the film. Four days after the film's release, we were at Gaiety theatre in Bandra, Mumbai and we had tears in our eyes when we saw the reactions. People were reacting exactly the way we hoped they would at the given situations.
Farhad: Numbers are important. But film-making is not just about getting a huge opening. It's more about sustaining in the days that follow. When your film holds strong, it means that people have appreciated it in the true sense.
Did you ever anticipate that your film would give Singham Returns a tough time, considering you're the writers of that film too?
Sajid: Both Entertainment and Singham Returns are our babies. Of course, Entertainment remains closer to us because of obvious reasons. And we believe that today, the market is big enough to accommodate two films or more at the same time.
Farhad: Out association with Rohit Shetty goes far beyond box-office statistics. He was there to give us his blessings on the first day of the shoot of Entertainment as well as the last day. That is the kind of love we share.
Akshay Kumar have you a break as directors. And you have him a hit film. What's next?
Sajid: Akshay believed in us. Not letting him down was our greatest responsibility. We were in London for the film's premiere that's when he told us, "I am really proud of what you have made." That meant the world to us.
Farhad: Being with Rohit (Shetty) taught us how to handle comedy in the correct manner. And being with Akshay taught us how to take comedy to the next level. Our screenplay was funny but an actor like Akshay made it funnier.
Your most memorable moment so far?
Sajid: Oh, every day has been a memorable day with Akshay. He has been like a friend, philosopher and guide in the true sense. He is a part of our lives now. What is most endearing about him is that he genuinely cares for you. There was a time when I had put on a lot of weight and he was so concerned that I had no option but to get strict about my diet and lifestyle.
Farhad: Our mother hasn't been keeping well of late and there is no day when he doesn't enquire about her health. We have come up the hard way and we still value our middle-class values and ethics. The same is the case with him too. I guess that is what we share in common. That is why we value our success so much.
Are producers chasing you now that Entertainment has worked?
Sajid: God has been kind. On the day of Entertainment's release, a producer who we won't name saw the film and sent us a signing amount by SMS. I think that must be a world record.
Your next film, Housefull 3, is a huge franchise. What are your plans for it?
Sajid: The plan is to enjoy making it so that the audience enjoys watching it. Like you said, it's a big franchise and it's an even bigger responsibility. We have a great cast, a great producer (Sajid Nadiadwala) and a great team.
Farhad: More importantly, we have Akshay Kumar again, to give us all the support. Right now though, we're still in the Entertainment zone and let us enjoy this period some more.