The actress is making a mark in Bollywood with an impressive strike-rate at the BO.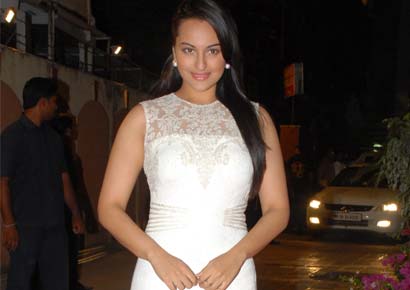 She is just four films old but already has her handprint eternalised on a tile at the Walk Of Stars on the Bandstand promenade in Bandra. "Even I was surprised when the TV channel approached me for my handprint. But they told me I had the quality and potential to be featured alongside the big names. It makes you feel that you are doing something right," beams Sonakshi, who is riding high on the success of her latest film. Ask her if she was expecting the film to click with the audience and Sonakshi says she always believed that the film had the right dose of romance, comedy and action — "a perfect Diwali gift".
Interestingly, since her debut film Dabangg to the more recent Son of Sardaar, Sonakshi's image has been strongly associated with that of a village belle. Is she happy with that? "I am happy with the kind of roles I am doing, but only Dabangg had me as a village belle," she clarifies, adding that the character that she completely relates to so far is that of the Sardarni in her latest film. "I think I am a Punjabi at heart, I love Punjabi food and it's their larger-than-life attitude that I relate to the most," she grins.
Ask her how being Shatrughan Sinha's daughter helped her in the industry, and she quips, "Frankly, if my father had really helped me to get ahead in the industry, it could have been a huge pro, but he hasn't done that. Of course, his support has always been there but he never approached anybody to ask for work for me — whatever happened, happened on its own. Of course, that was because my father knew Salim uncle and Salman (Khan). They've seen me earlier and thought I would fit the role. So, in that sense if you get a push from the family, it's a positive thing," smiles Sonakshi. The cons, she says are the never-ending comparisons and expectations. "It's slightly more difficult to step out on your own, but thankfully I have managed to do that," she says proudly.
As for the kind of roles she would like to do, Sonakshi candidly admits she loves those that give her the opportunity to dance and sing. "Apart from that, I liked the climax in Rowdy Rathore where I get to shout at the villain," gushes Sonakshi, who is now looking forward to her next release Dabangg 2. "It takes off from where the original story ended, and the romantic angle of a married couple in the sequel is sweet and different from what we have seen in films so far," says the actor, who unlike her contemporaries, is happy with her curves. "I am not a model, I am an actor. Unless I am playing a sick anorexic girl which might require me to be stick-thin, you'll see me like this because that's the only way I know to be. I am playing strong, nice characters and I am happy being what I am," she smiles.