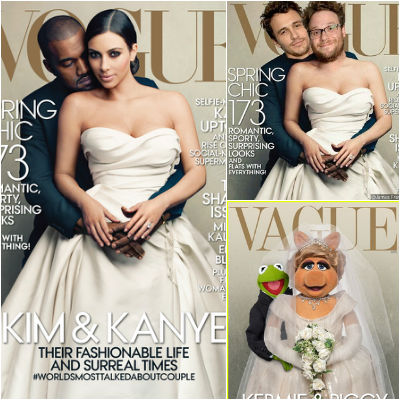 The world is all abuzz about the fact that Kim Kardashian and Kanye West are on the cover of Vogue. The engaged couple took to the cover to finally say I-do with a follow up inside spread as well. The photographs were shot by Annie Leibovitz and includes photos of the couple posing with their 9-month-old daughter, North West.
Kardashian was extremely happy about the photo shoot. She tweeted expressing her excitement, as did the rest of the Kardashian clan.
This is such a dream come true!!! Thank you @VogueMagazine for this cover! O M GGGGGG!!! I can't even… http://t.co/CbD5ThUqor

— Kim Kardashian (@KimKardashian) March 21, 2014
soooo major sister! this is gorgeous!!! @KimKardashian @kanyewest @voguemagazine pic.twitter.com/oDQTC5gXqq

— Kendall Jenner (@KendallJenner) March 21, 2014
The hashtag #worldsmosttalkedaboutcouple was added to the tweets and was imprinted on the Vogue cover as well.
A few months ago, James Franco and Seth Rogen released their own hilarious version of Kanye West's and Kim Kardashian's steamy Bound 2 music video. So, it came as no surprise that the duo were back at it again creating a parody picture of the couples' Vogue shoot.
As Seth Rogen aptly put it, it had to be done.
It had to be done: pic.twitter.com/EXH2NJI3m9

— Seth Rogen (@Sethrogen) March 22, 2014
In a surprising turn of events, beloved Muppets characters, Kermit the Frog and Miss Piggy also released a parody of the famous couple.
"Vague" brings you Kermiggy, the #UniversesMostTalkedAboutCouple pic.twitter.com/RhIuKFz34Y

— The Muppets (@TheMuppets) March 21, 2014
Notice the hashtag #UniversesMostTalkedAboutCouple
Kermiggy is honored to be on the cover of Vague as the #UniversesMostTalkedAboutCouple! (But who's surprised?) pic.twitter.com/EtiqYO51rW

— Miss Piggy (@RealMissPiggy) March 21, 2014
The Internet of course had their fair share to say.
#UniversesMostTalkedAboutCouple VS #WorldsMostTalkedAboutCouple I know who I would choose.

— Kay Westbury (@Kay_Westbury) March 23, 2014
#universesmosttalkedaboutcouple | Kermit and Miss Piggy have decided to prove that they are Hollywood's hottest... http://t.co/roA0R5o8ZH

— LondonFashionSociété (@LonFashionSoc) March 23, 2014
I need to start subscribing to "Vague" #UniversesMostTalkedAboutCouple #MuppetsMostWanted pic.twitter.com/61HRaAYFib Sorry #kimye

— Brianne Howey (@Brianne_Howey) March 23, 2014
Couldn't resist. Very clever. #UniversesMostTalkedAboutCouple pic.twitter.com/JubKiEpBOR

— Natasha Sherling (@NatashaSherling) March 22, 2014
Now THIS is a true Power Couple. "@TheMuppets: "Vague" brings you Kermiggy, the #UniversesMostTalkedAboutCouple pic.twitter.com/yRwptWTaZt"

— Kelley (@Budini) March 21, 2014
This should be the Vogue cover with James Franco and Seth Rogen. pic.twitter.com/z8Z46vU0DR

— Brian Barry (@iAMbrianbarry) March 23, 2014
James Franco and Seth Rogen will always have my time. pic.twitter.com/DW88G16JHW

— alia gianna loren✞☠. (@alzyyx) March 22, 2014
Kermit, Miss Piggy, James Franco and Seth Rogen spoof Kim and... http://t.co/3GICCcR2g3 Guess I will go with Kermit and Miss Piggy!

— Bernadette Ferriter (@kriemhilt) March 23, 2014
Seth Rogen and James Franco are just plain incredible. http://t.co/9oQLcIfNsj

— Laura Claps (@LauraClaps) March 23, 2014